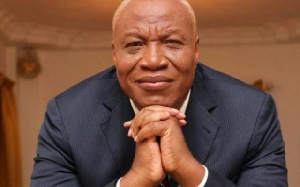 As a son of a Mechanic/Farmer, Alabi's life story in itself gives hope to anyone with a humble beginning and struggling through life.
His life story inspires and gives hope to many.

His ability to survive in the then underdeveloped Northern Region, and rise to the zenith of academia is amazing and gives hope to the hustler, to the needy, to the teacher, to the student, to the farmer, to the sportsman, to the villager, to the middle class, to the disappointed and the alienated grassroot and to all and sundry.

This is what inspires the message, New hope.

Prof Joshua Alabi is a politician, a sports administrator, and an academician. He has endeared himself as a transformational leader, an achiever, very affable, down to earth, humble, kind, open hearted, unifier and resourceful. With that, the NDC can put the past behind us and embrace this new order which corrects our past mistakes including our negligence of the grassroots.

For the NDC to rise and conquer the elephant in 2020, we need a New Leader without blemish.
Prof Alabi is therefore the best that we have in this difficult time in opposition. Prof Alabi is our New Hope.

NDC cannot go into the 2020 election defending our past mistakes. We must re-brand our package and give new hope to the Ghanaian. We must come out with a message of hope that will encourage our grassroots to come out in their numbers to vote. Our new hope message must appeal to the NDC grassroots, the middle class, the academia and the business community. The era when the NDC loses on school campuses must be put behind us. Our new hope message must resonate with Ghanaians from all segments of society. Prof Alabi's new hope message is meant to give social democracy its true meaning of empowering people of all classes rather than the privileged few.

Poverty does not befit anybody. Alabi being the son of a poor farmer, understands how it feels to be poor. He is therefore well placed by Divinity to show up at such a critical time such as this to come and deliver our poor folks. Prof Alabi by his knowledge and experience is to strengthen the party by empowering the grassroots. This is part of the reasons some comrades are saying NEW HOPE.

With his background in International Marketing and Industrial Economics, Alabi has the requisite credentials, knowledge and skills to expand agriculture, set up cottage industries, plot the establishment of Agro processing factories and by so doing transform the economy of Ghana. Again, a Scotland trained International Marketer, Prof Joshua Alabi as President is to help re-brand and repackage our exports, so as to help raise much needed foreign exchange for the economy.

Giving the opportunity, Prof Alabi will show the NPP, the true meaning of 1 District, 1 Factory. He is not only going to be practical, (unlike the NPP), he is going to implement it with the seriousness that the Russians attached to their industrialization program.
The Ghanaian young man and woman who have completed school and are jobless will have a New Hope by voting Prof Joshua Alabi. The grassroots who have been neglected for all these years because government had no space to tap into their energies will have a New Opportunity to work under Prof Joshua Alabi. The businessman whose business is collapsing will breathe fresh air with a stimulus package under Prof Joshua Alabi. The trader who is suffering low sales will have a turn around as new customers will come to buy as a result of the income received for their labour. The children of farmers will take advantage of the new inputs provided by government to enable them expand their farms and produce more. They will also have a New Hope to benefit from government scholarships, just as he Alabi also benefitted.

This is the New Hope coming to Ghanaians. Time for doing the basics to create an industrial economy for the benefit of our masses; Time to have hope that the Ghanaian is to undergo massive reforms which will engage his/her energies and talents and reward accordingly.

For the benefit of those who are yet to read about the exploits of Prof Alabi and why he represents New Hope, let me reiterate some of his Hallmark achievements.

Alabi has seen it all. In sports, he started as a welfare committee member of Accra Great Olympics and rose through the ranks to the opposition of Director of the club. He became Acting GHALCA Secretary and the HEAD OF THE MANAGEMENT COMMITTEE OF THE BLACK STARS. Had his Krowor people not called on him to represent them in Parliament, I have no doubt he would have attained the status of GFA president.

In 1996, Alabi won his Krowor seat to be in the 1997 Parliament; coincidentally, president Akufo Addo and former president Mahama entered Parliament that same year. Alabi was made Greater Accra Minister and later, Northern Regional Minister during Rawlings's era. He is still remembered for his policy of OPERATION NO FOOD TRANSPORTATION OUT OF NORTHERN REGION BUT FOOD INTO THE NORTHERN REGION. People still talk about the policy to this day due to its success. The policy was meant to reduce acute food shortage in the Northern Region during those days.
Of course, his track record in academia is unmatched. Alabi started as a teacher in Northern School of Business in 1981 and rose to become the Vice Chancellor of the UPSA in 2012 to 2016 highest in terms of promotion and from Mr Alabi to Professor Alabi. Even as a student, he was NUGS president in Soviet Union and Europe. He completely transformed Institute of Professional Studies, IPS, to University of Professional Studies Accra, UPSA. Just this August 2017, the Governing Council of the University immortalized Alabi's efforts with a bust and one of the biggest libraries in Ghana in his name.

In 2012, IMANI Ghana named Alabi the Most Influential Public Sector Leader in Ghana. In 2015, Chartered Institute of Bankers awarded him for his Transformational Leadership. Ultimately, Government of Ghana decorated Alabi with perhaps the highest award of the land, ORDER OF THE VOLTA in 2016.

I urge my fellow comrades from the umbrella fraternity to embrace the New Hope message and give Prof Alabi the opportunity to share his remarkable experience with Ghana as a country.

NDC has the men.

Prof Alabi is ready for the job.
New Leader, New Hope.