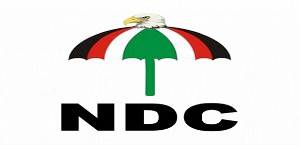 "If you would look deeper, history is broad yet deep that binds the core existence of the world. Hence, history keeps the records of events that happened in the past.
"History is a lesson in the past but can also be the greatest regret of the future. Yet the reason why there is history is because of the events that were created by man (Hughes 2010)."

In theory, a political party is a conflation of diverse group of people who share same ideology, work values and culture. And, have reached a consensus to work together towards forming a formidable government with the view to improving the lives of the masses.

Thus, we can dare stress that any serious, committed and forward-thinking political party should have an explicit focus and direction.

Well, you would think that individuals who pride themselves as social democrats will be extremely empathetic to the needs of the masses, but this is not the case with the NDC apparatchiks.

Bizarrely, though, they only joyously sing along the social democratic rendition and then turn their back on the masses. It is an illustrative case of social democrats who do not know how to initiate and manage social interventions to the benefit of the wider public.

It is no understatement to state that NDC has a penchant for either reversing or messing-up the crucial national policies. Some of us were indeed dumbfounded over the NDC's hasty and needless termination and replacement of the conventional educational system (Ordinary and Advanced Levels) with the communist Junior Secondary School model.

But as to whether the Junior Secondary School system has been successful in juxtaposition with the old school system, is a million dollar question that I will leave to the conscience of discerning Ghanaians to judge.

The NDC hierarchy's irrevocable enthusiasm in reversing important national policies and programmes without basis did not end at the abolition of the old school system, but they also bizarrely re-christened the Senior Secondary School (SSS) to irrelevant Senior High School (SHS).
As if that was not enough, the four-year Senior Secondary School system was catastrophically reversed to three-year cycle to the utter disgust of most discerning Ghanaians.

Given the circumstances, it would only take a doubting Thomas to contend that the future NDC government won't reverse crucial national policies and programmes like the Free SHS, one district one factory, and one million dollar per constituency amongst others.

Considering that the NDC faithful blissfully campaigned and voted against the poverty reduction Free SHS policy with unabashed disgust during the 2016 election, it will not come as a surprise at all if the future NDC government decides to abolish the policy altogether.

Indeed, the opposition NDC operatives relentless frolicking and needless protestations against the Free SHS implementation should be a wake-up call to all discerning Ghanaians.

After all, didn't the erstwhile Mahama's government wilfully run down the crucial social interventions such as NHIS, School Feeding Programme, Metro Mass Transport, Livelihood Empowerment Against Poverty (LEAP), SADA, GYEEDA, Maternal Care, amongst others to the chagrin of discerning Ghanaians?

In retrospect, Mills/Mahama government took over a favourable economic foundation laid by President Kufuor and his NPP government.

It must be noted that three years after former President Kufuor's NPP government had put in dint of effort and discovered oil in commercial quantities, the late President Mills only had the easiest job of turning on the valve at an offshore platform in December 2010 to pump the first commercial oil.

It is, therefore, worth noting that Ghana soon associated itself with the petroleum exporting countries. And believe it or not, Ghana started to export crude oil which boosted the economic growth.
The economy grew favourably from around 8.4 per cent to around 14 per cent by 2011 and Ghana consequently reached the Lower Middle Income status.

Ghana's GDP grew from $28 billion to a staggering $47 billion by 2011.

Ghana was then cited as the world's fastest growing economy in 2010 (Economy Watch, 2010).

To his credit, the late President Mills continued to improve upon the excellent economic foundation laid by former President Kufuor and his NPP government.

Unfortunately, however, President Mills mysteriously departed from life in July 2012. And per Ghana's 1992 Constitution, Vice President Mahama was the next in line to take over the presidency.

Bizarrely, things started to fall apart. It went from bad to worse following President Mills sudden and mysterious death.

Ghana's total debt rocketed astronomically (GH9.5 billion in 2009 to GH122.4 billion as of December 2016). This was as a result of the unbridled spending in the 2012 election and the numerous corruption scandals involving GYEEDA, SADA, SUBA, Bus Branding, dubious judgement debt payments amongst others.

Consequently, Ghana's economic growth rate was woefully reversed from 14% in 2011 to an incredible 3.5% by 2016. The GDP was shockingly reduced by $10 billion (from $47 billion in 2011 to $37 billion in 2016).
But despite the admissible evidence of mismanagement, the NDC loyalists would want discerning Ghanaians to believe that the erstwhile NDC government provided exceptional governance. Indeed, vague apprehension of patriotism exists in the minds of many Ghanaians, who prefer needless praise singing to defending the national interests.

The good people of Ghana, regrettably, witnessed so much duplicities, corruption, incompetence, nepotism, cronyism and frequent abuse of power in the erstwhile NDC government, and hence the vast majority of Ghanaians have permanently lost trust in the NDC.

Ghana's economic growth regrettably slowed for the fourth consecutive year to an estimated 3.4% in 2015 from 4% in 2014 as energy rationing, high inflation, and ongoing fiscal consolidation weighed on economic activity (World Bank, 2016).

In addition, the high inflation rate remain elevated at 18.5% in February 2016 compared to 17.7% in February 2015, even after the Central Bank's 500 bps policy rate hikes (the inflation stood at 15.8 per cent as of October 2016).

Ex-President Mahama, in all honesty, did not work his socks off to improve on the socio-economic standards of living. Take, for instance, former President Kufuor quadrupled Ghana's GDP to a staggering $28 billion in 2008. While the late Mills inherited oil in commercial quantities and managed to increase the GDP to $47 billion in 2011. However, President Mahama disappointingly reversed the GDP to an incredible $37 billion as of December 2016. That was indeed a quintessence of mismanagement.

However, since assuming power, Akufo-Addo's government has taken commendable strides towards the improvement of social mobility through the implementation of poverty reduction policies such as free SHS, one district one factory, one million dollars per constituency, tax reductions, a dam per village in the northern part of Ghana, among others.

And despite the huge economic mess created by the outgone NDC government amid stunted economic growth, Akufo-Addo's government has efficiently raised the economic growth from a disappointing 3.5 per cent as of December 2016 to over 7 per cent within a short space of time.

And what is more, the NPP government has dramatically reversed the inflation rate to a little over 11 per cent from a little over 15 per cent as of December 2016 (GSS 2017).
More significantly, Ghanaians are currently enjoying uninterrupted electricity, reductions in electricity tariffs, low inflation, tax reductions, favourable economic growth, gargantuan savings on free SHS, amongst others.

It is absolutely true that the Akufo-Addo's government is tackling the erstwhile Mahama's government economic mess head-on. Take, for example, a few months ago, the finance minister presented the 2018 budget against the backdrop of an improving macroeconomic performance and falling inflation.

Ghana is indeed heading towards the right direction under the able leadership of President Akufo-Addo.

Long live Ghana!