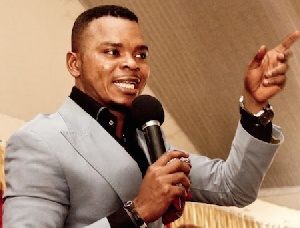 Renowned psychiatrist Dr. Yao Mfodwo says the founder of the International God's Way church Bishop Daniel Obinim needs reformation and prayers.
According to him, the miracle worker has shown consistent signs of a man who needs correction and help from Ghanaians.

The comments come after the controversial pastor was held two nights by the Police for fraud and assault. He has however been granted a GHC2 million self-recognizance bail.

Speaking to Kwaku Sakyi-Addo on the Lounge Friday, Dr. Mfodwo said the actions of Obinim must not be taken for granted by the Ghanaian authorities.

"If what we are hearing is true, Bishop Obinim needs reformation and correction.

"When someone is in the news for things other than their work, we should all be really concerned," he said.

Background
The controversial miracle worker was detained at the Nima Police station on Tuesday and spent the night in Police cells after his arrest over a GHC11.6 million fraud.

Obinim was arrested in Tema and transferred to the Accra Police headquarters for questioning. He was later charged for defrauding under false pretense.

Public Relations Officer of the Police CID ASP Joseph Benefo Darkwa stated a complaint was lodged with the Police in Tema a few weeks ago by a businessman who said he gave an amount of GH¢780,000 to Okomfo Gyapata of Mampong Nkwanta near Koforidua in the Eastern region to do a spiritual ritual to bless the money obtained from a gold deal.

ASP Darkwa narrated that the complainant added after some time, he realised that the Okomfo was not able to help him neither was he able to return his money, so he went to Bishop Obinim to help him retrieve the money and do the rituals to bless the money for him.

ASP Darkwa said it was based on that, that Bishop Obinim asked the businessman to bring the rest of the gold money which amounted to GH¢11.6 million belonging to the family.

The complainant told the police since he gave the money to the Bishop in November last year, Obinim has not been able to do what he was expected to do neither has he given him back his money.