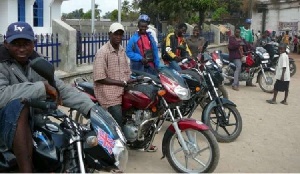 When I first moved to Arusha, TZ in the mid 2000's, bicycles ('Pikipiki') played a role in the transportation of people from one place to another within towns.
Then in a couple of years, motorbikes were introduced to replace these bicycles and within a matter of months, you saw a complete transformation of how people and goods moved around.

'Boda-boda' (their version of Okada) transformed the lives of their owners, riders and families as it became a major source of income for the unemployed.

'Boda-boda' also brought the needed competition to taxis, as they became far more reliable and nimbler at navigating the horrendous traffic jams.

Initially, there were a lot of motorbike accidents, many fatal, but I believe with training and public outreach safety has improved. The story is no different in Kenya and other East African countries. In Ghana, just like Tanzania, the 'Okada train' left the station a long time ago and the genie has been out of the bottle for a while now. Any government seriously thinking about reducing the unemployment rate will consider the 'Okada' business as a potential source of employment for a large segment of our citizens.

In Ghana, the 'Okada' economy represents a sizable political constituency, so any political party will be smart to tap into this pool and formalize their operations. The government should formalize and regulate the sector i.e. allow private enterprise to organize 'Okada' riders, train them on safety and security, equip them, require them to wear special uniforms when in operation and license them to operate. For example, a technology was designed by Vocational Educational and Training Authority (VETA) that ensured a driver could no longer start the engine of the motorbike if the rider was not wearing a helmet.
On the revenue side, license fees alone for 'Okada' is another huge revenue generating activity for the GOG. Again, in an economy where the tax base is sub-optimal, the government must find ways to generate revenue from "soft-tax" such as 'Okada' fees.

'Okada' will contribute immensely to Ghana's gig economy and reduce unemployment if the right government policies are put in place. With the explosion of motorbike users in the country, the government can then encourage private enterprise to set up manufacturing and or assembly plants to feed the local market. This will also contribute to lower the unemployment rate. The government of Ghana should avoid the myopic and ultimately self-defeating trap of solving every problem with blanket ban(s).

Currently a ban has been issued for 'Okada' business mainly due to security concerns, but I believe that we can alleviate this problem with the right measures in place.

Motorbikes have been used in various robberies in the past, so the government decided to ban 'Okada' all together; interestingly the same logic has not been applied to robberies committed with motor vehicles. That said, I agree that motorbikes should be stopped from operating taxi services at dusk for the safety of the general public, but I will strongly recommend that we stop the blanket bans and start thinking outside the box. OKADA business is a game changer for many in Africans and so governments should stop fighting change and rather embrace and work with it to the benefit of its people.

Taxi booking and rideshare apps have revolutionized the way people move from one point to the next. According to mobisoftinfotech.com, a new type of taxi segment, popularly called bike taxis have been gaining traction through either standalone bike taxi apps or as an additional option in already popular cab-hailing apps in Asian countries like Indonesia, Thailand, India, Vietnam, Cambodia. Uber has also jumped in this marketing and offering this service in some countries. Again, here is another example of using technology as a revenue generating tool.
The introduction of technology by way of Apps has thrown the spotlight on the potential for this market so it is a lost cause if government continues to ban the activities of Okada. Humans are dynamic and will find a way around the government so why not draw them into the formal sector? According to euronews.com, four bike taxi firms are now battling it out on the streets of Nigeria's commercial capital Lagos and the oldest, Nigerian motorcycle taxi firm planning to launch in Ghana and Ivory Coast this year, as well as a fourth Nigerian city.

Gozem from Singapore has launched its Okada business in Benin. Are we then going to wait for our brother and sister to East and others to scoop our market share just to show us the potential in this space? Are we going to wait for Okada fares to become a foreign exchange problem and put further strain on the local currency as most of the profits from this will have to be eventually 'repatriated' at some point? All at insignificant investments in to our local economies by these companies?

In summary, the Okada business is here to stay in Ghana so the government of Ghana must accept and come out with policies that will help this industry grow and flourish. The government is trying to stand in front of a fast moving train in an attempt to stop it…. It is impossible.