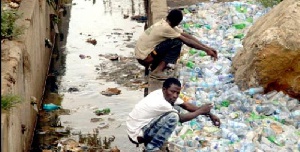 By Alex Blege
"It's in the early hours of the day. A young man squats a few steps away from his house. His neighbour suggests to him: "massa, go into the bush a little". His response: "come and push me inside".

Later, he confronts his neighbour: "what do you think of yourself? Do you expect me to go into the bush at this time – gesturing, or should I come and use your toilet? So if our toilet is spoilt, what should I do?

Before this argument, the tenant had drawn the attention of the landlord to the negative attitudes of his children. Sometimes, toilet was tied into polythene bags and thrown behind the house where tenants lived. At other times, in the bushes behind the house some other neighbours go to defecate.

According to a report of the Wa Municipal Assembly, (2010) only 8.3% households in Wa have toilet facilities in use within the home, 44.5% use public toilets and 37.2% defecate in the open. The statistics confirm the situation; open defaecation – a lingering eyesore in the Wa Municipality.

The factors responsible are: absence of sanitary facilities, little or no enforcement of bye laws, poor or little supervision and inspection of latrines in households, lack of political will to implement and enforce national policies on environmental sanitation and hygiene, cultural norms and ignorance of the dangers of open defaecation.
Environmental sanitation and hygiene is a human right; there're policy and legal as well as human rights documents to that effect: the National Environmental Policy, Public Health Act 851 (2012) and the International Covenant on Economic, Social and Cultural Rights (ICESCR).

The Environmental Policy states, "Assemblies shall ban defecation and urination in places other than toilets and urinals; the Public Health Act further states: "Section 56 of the Public Health also makes it clear that the issue of open defecation is an offence and is punishable by a fine of not more than two hundred and fifty penalty units, or to a term of imprisonment of not more than three years or to both".

According to ICESR, Article 12 (2) (b), "The States Parties to the present Covenant recognize the right of everyone to the enjoyment of the highest attainable standard of physical and mental health. One of the steps to achieve the aforementioned is, the improvement of all aspects of environmental and industrial hygiene"

The Sustainable Development Goals (SDGs) state explicitly in Goals 3, 6 and 11 the essence of an environment that is safe for all. Goal 3, "ensure healthy lives and promote well-being for all at all ages"; goal 6, "ensure availability and sustainable management of water and sanitation for all", and goal 11, make cities and human settlements inclusive, safe, resilient and sustainable"

The theme for this year's celebration of World Toilet Day in Ghana was, "STOP OPEN DEFECATION; OWN A HOUSEHOLD LATRINE NOW! Globally, it's estimated that 2.4 billion people live without improved sanitation and one in ten people has no choice but to defecate in the open (WHO/UNICEF 2015).
In UNICEF's Press Release on the day, it's estimated that access to household toilet facilities in Ghana, remains limited to 18% in urban areas and 9% in rural areas. These figures show there's much work to be done in both urban and rural areas.

In the recent Open Defecation Free Rankings released by the Upper West Regional Environmental Health Directorate, Wa Municipal came 8TH on the table, followed by Lambussie Karni, Sissala East, and Jirapa

There's the need to consider our attitude towards law enforcement. There's no excuse.

Insanitary conditions – open defecation and its accompanied dangers will become a thing of the past in our cities, towns, villages, and especially in Wa Municipal, Jirapa, Sissala East and Lambussie Karni.

The writer is a freelance journalist with interest in human and social development and sustainable development. Email: kw.ameblege@hotmail.com/kwameselom12@gmail.com
and nationally, it's The celebration was held in Meteu a village in the Wa West District of the Upper West Region.

The Open defecation rank of Wa Municipal is 8tWhen the Open Defecation

In the corners of the Wa Municipality human excreta is a common site. It's no surprise that Wa Municipality cannot pass for Open Defecation Free (ODF). It seems the battle against open defecation in the Wa Municipality of the Upper West Region lingers on – there seems not to be an end in sight.

This canker is rife in most districts across the length and breadth of the country. The Ministry of Local Government and Rural Development must begin to empower and resource the Environmental Health Services Directorate more than ever before at the national, regional and MMDA level to enhance the total fight against poor environmental sanitation.