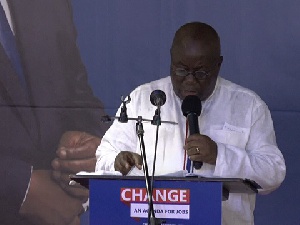 Can't still believe you are the president elect to stir the affairs of this country. I never wish to see you as my president,so l work tireless in my capacity upon many challenges for president Mahama and ndc to continue,but majority of Ghanaians who turn out to vote over warmly voted for you as our country leader.
I am an ideal student of his excellency former Jerry John Rawlings,the proponent of probity,accountability and social justice,who believe in the revolutionary principles he stood for. You and your campaign teams across the country work tirelessly for your victory.

My special thanks goes to Dr. Mahamuru Bawumia,the incoming Vice President for his massive campaign because,in the history of this country no top politician has ever campaign the way he work for your victory. Your campaign teams and yourself promise Ghanaians especially the first time voters the following:

1. Free senior high school across the country

2. One dam for all the villages in the North

3. Pay teacher trainee allowance

4. Pay nursing trainee allowance

5. Free maternal care

6. Reduce light bill
7. Reduce water bill

8. One district one factory

9. Pay all DKM customers

10. Reduce Corporate tax to 20%

11. Create the western north region

12. Provide jobs to all graduates

13. Abolish some other taxes

14. Charge a flat rate of 3.5 percent from SME instead of 17.5 percent VAT
15. Pay $1m to all 275 constituencies

16. one-extension officer per 500 farmers.

17. Removing import duties on raw materials and machinery for production

18. Abolishing the Special Import Levy

19. Abolishing the 17.5% VAT on imported medicines not produced in the country

20. Abolishing the 17.5% VAT on Financial Services

21. Abolishing the 5% VAT on Real Estate sales

22. Abolishing the 17.5% VAT on domestic
23. Provide jobs for all Ghanaians

24. Build 350 new SHS

25 Scrap all forms of fees including PTA levies in all SHS

26. Reduce all forms of vehicle insurance.

27. Provide zero corruptible government

28. Increase cocoa production to 1.5 million metric tones

29. Increase enrollment in all our professional training schools with

restoration of all allowances.
30. Reduce fuel prices to very low levels.

You have pleaded that Ghanaians should try you and indeed majority of Ghanians who voted that day agreed to try you. As you are preparing to lead us,we will hold on to the promises and if you fail,what majority of Ghanaians did to president Mahama,same would be done to you.

President Mahama lose the election to you because of voter apathy if you and your team analyses the election results very well. Arrogance of some ndc ministers and appointees cause us the election. Now that power is no more in our hands,we would sit down,reflex and come back strongly.

You and your team always describe president Mahama and his team as "incompetent". Now that the destiny of this country is coming into your hands,some of us expect nothing from you except for you and your team to prove how competent you are.

Like I said, I never wish to see you as my president but since majority of voters agreed to you,who am l!?. I join hundreds of my comrades to wish you well as our next president in few days time.

Ibrahim Hardi,contact;0208235615 email: bigkolaaya@yahoo.com