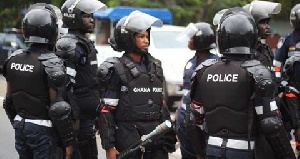 After taking a critical look at the recent security issues in Ghana, I asked myself a question. 'ARE WE SAFE' ? If we can recall in this year 2018, just a few months ago about five police officers were shot dead at various locations and even military men in some cases.
I read on Ghanaweb how someone also expressed his opinion about this rampant deaths of these security men, and I felt very sorry about it because that was the pure truth about our attitude as Ghanaians towards security men especially when something unfortunate happens to them.

We Ghanaians always be like, a police officer is shot dead and so what? The very duties that they honored and lost their lives, some other police officers are there at the moment so what is the big deal here? Armed robbers have shot police officers so should the police not go to work? These are questions we ask them when they complain.

Most of us do not just care about who police officers are. If we can recall again last year at Lapaz two police officers were shot in broad day light whiles in their quest to arrest a robbery attack. People were passing by and others taking videos of the scene but no body tried to intervene. No problem I understand, but if they were police officers, they would put their lives at risk just to apprehend the robbers and save the residents of their lives and properties.

Now that we are always talking about the negative side of some few police officers, what about the general overview of the police officers who always sacrifice their lives, sleep, and their families just to protect us. I actually feel bad about our attitudes towards the killings of these police officers. Please let us see police officers as people that need our cooperation in the performance of their duties.

Now let me go straight to my earlier question about whether we as Ghanaians are safe or not. To me personally, I think we are not safe in the sense that, our security personnel are always found wanting and upon a critical analysis of the situation you will realize that the ratio of police officer to an AK47 is 1 is to 4. By AK47 I mean a gun in case you might be wondering.
Nevertheless, these police officers have never for once given up, they are still doing their best to protect us. It is too improper and sometimes annoying to put the blame on these gallant men in uniform for these rampant robbery attacks in Ghana these days.

In my candid opinion the government of the day is to blame, because the police officers lack the necessary logistics to execute their duties well.

So let us be frank, if the police do not have logistics to protect us then why won't the robbers be at work. Let's give the police peace and blame the recent robbery on the government. For me I think the security of we the masses is not the priority of any government. I am saying this because, if the police that are deployed to guard the government officials were not having guns, we will never rest. And it will be a big issue in all the media houses for discussions but here are our police men patrolling here and there unarmed, this tells you how unfortunate we are.

For the recent robberies, trust me it will continue to happen until our security men are equipped with logistics to protect us. I hear every day from the security agencies on some media platforms, telling us not to worry because everything is under control; it marvels me because the people that are even supposed to protect us are not even safe, what about you and me.

The issue of these rampant robberies cannot be solved without we the citizens putting our trust on the security service, but the question is how then do we entrust our lives into the hands of that police officer who have no logistics to protect us. We need to call on the government to equip these police officers with the necessary logistics as soon as possible to protect us. The issue cannot be dealt with in any way other than this…