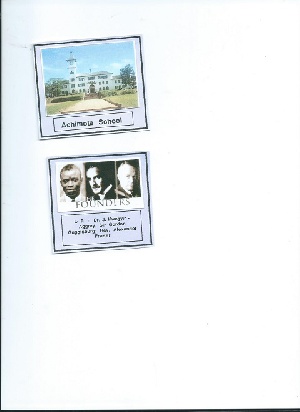 By Leo R. Sam
Forgotten hero? In a few days we will celebrate his 141st Birthday !!!

Dr. Aggrey spent only a few years on this planet, but his accomplishments are remarkable. His words and actions have left indelible marks on humanity directly or indirectly. He must not become a "FORGOTTEN HERO" in Ghana.

The work that he performed must be gratefully acknowledged. He deserves to be celebrated and recognized. The younger generations must be informed, through history lessons, about the good works of Dr. Kwegyir-Aggrey.

On the occasion of the 139th birthday of Dr. Aggrey in 2014, his relatives in the United States joined the Ghanaian Community in the Carolinas to celebrate his birthday in Dr. Aggrey's house in Salisbury, North Carolina. They also laid a wreath on his tomb.

Does Achimota School do anything special on the DOB (Date of Birth) or the DOD (Date of death) of Dr. Aggrey? If the school celebrates, the occasion should be PUBLICIZED to draw the attention of Ghanaians, especially the youth, to the great contribution he made to the educational system in Ghana.

Dr. Kwegyir- Aggrey was one of the three MAJOR founders of Achimota School. The other two were Sir Gordon Guggisburgh and Rev. Alexander Fraser.

It is noteworthy that the University of Ghana in Legon had its ROOTS in Achimota School. The Kwame Nkrumah University of Science and Technology also had its ROOTS in Achimota School. Numerous outstanding African leaders in various fields ( education, politics, science, economics, classics, etc.) passed through Achimota School.

This article is written mainly to pay tribute to the Great Ghanaian Educational Philosopher, Dr. Kwegyir Aggrey, on his 141st Birthday(October 18, 2016). A short life history of this great man will be given for the benefit of young Ghanaians who may not have heard of Dr. Aggrey.

A few of the philosophical statements accredited to Dr. Aggrey will be quoted and reflected upon for the benefit of those who are now responsible for planning and implementing the educational system in Ghana.

J. E. Kwegyir Aggrey was born at Anomabu near Cape Coast in 1875.He had his elementary education in the Methodist school in Cape Coast. He became a teacher and later a headmaster in the school. In 1898, he emmigrated to the United States of America for further education. He married Rose Douglas, a native of Virginia. They had four children.

Aggrey studied at Livingstone College in Salisbury, North Carolina and obtained a B.A. (Hons) degree in 1903. He earned an M.A. degree in the same College in 1912. He also earned a Doctor of Divinity degree from Hood Theological Seminary in 1912.
Through correspondence, he was awarded a Doctor of Osteopathy designation from the International College of Osteopathy in Elgin, Illinois. He just loved to learn! This led him to take many courses including chemistry, physics and logic.

He was a polyglot. Besides his perfect knowledge of the English language, he was said to have been fluent in French, German, Ancient and Modern Greek and Latin (Italian). He taught in Livingstone College. In 1918 he enrolled in Columbia University and started taking doctoral courses in sociology and economics.

In 1920, he was recommended to be a member of the Phelps-Stokes African Education Commission. He travelled with other members of the commission to visit the Gold Coast (now Ghana), Sierra Leone, Nigeria and several other African countries. It was during this visit that he got to know Governor Guggisburg.

He later became interested and involved in establishing Achimota School. Aggrey was not only an outstanding white-collar scholar but he was also an efficient blue-collar worker, who really enjoyed working with his hands to get things done. He participated physically in solving the drainage problem on the land on which Achimota school was built.

He was fond of fixing broken windows and doors, sweeping, dusting and wiping dirty glass panes. He was a real housekeeper, who did not depend on servants. He was not afraid of manual labour. Too many Ghanaian scholars look down on manual labour !!!

Aggrey was often described as "The Booker T. Washington of Africa". In his famous book, The African American Century, Professor Henry Louis Gates, states that Booker Washington was an extraordinarily hard-working freed slave. Washington "…urged African Americans to avoid politics and to emphasize economic self-reliance instead."

In this short article I intend to quote only FOUR of the numerous philosophical statements attributed to Dr. Aggrey and then reflect briefly on each statement.

1. Aggrey's definition of Education

2. Aggrey's opinion on education of women

3. Aggrey's idea on harmonious racial relationship

4. Aggrey's wish for Africa
1st QUOTATION:

"BY EDUCATION I DO NOT MEAN SIMPLY LEARNING. I MEAN THE TRAINING IN MIND, IN MORALS AND HAND THAT HELPS TO MAKE ONE SOCIALLY EFFICIENT. NOT SIMPLY THE THREE R'S BUT THE THREE H'S THE HEAD, THE HAND AND THE HEART"

For many generations the Ghanaian system of education has just over emphasised the three R's ( Reading, Writing and Arithmetic). Memorising facts just to pass examinations has been the major focus of the educational system. The technique of CHEW, POUR, PASS and FORGET, has been prevalent in the Ghanaian educational system for too long.

All officials involved in developing the educational policy must seriously consider Aggrey's idea of training the HANDS of students to become socially efficient and self-reliant. Well-trained hands will not rely on governments to employ them. They will have the ability to create productive jobs for themselves and others.

My personal experience in Canada demonstrates quite clearly that Ghanaian university graduates are really "handicapped" in many ways. Unless the educational system is adjusted to remove these shortfalls, our development will be at a standstill.

I studied pharmacy in Kwame Nkrumah University of Science and Technology ( KNUST )) for two and a half years before transferring to Legon to study for four years to obtain a degree in science and a diploma in education. As a teacher in Opoku Ware School ( OWASS )in Kumasi, Ghana in the 1960's, I felt I was on top of the world. I thought I had accomplished so much. I was shocked when I came to teach in Canada!!!

My first year as a teacher in H. A. Kostash High School in Smoky Lake, Alberta, Canada made me realize that theoretical academic education is NOT enough to make one a socially efficient individual in a community. Fellow teachers in the school had university degrees but they also had training and experience in other blue-collar trades.

Mr. Holowaychuk, the principal, was an experienced plumber. He was an expert in installing furnaces in new houses. Mr. Leskiw, the assistant principal and a highly respected mathematics teacher was a good fisherman. Mr. Klufas, an outstanding English Language and Literature teacher was also a large scale farmer. His knowledge about the heavy duty farm machinery was amazing.

Mr. Skoropad, a brilliant Ukrainian Language teacher, was a keen trophy hunter. All the teachers in the school had training in keyboarding and so could type whatever was needed. I had to rely on the school secretary to type my assignments for me. During my first year I concentrated on my teaching to establish myself as a competent teacher.

After that I took drastic steps to deal with my "handicaps". Through private tuition, apprenticeship and basic carpentry courses from the Northern Alberta Institute of Technology (N.A.I.T.), I overcame some of my shortfalls. Perhaps the polytechnic institutions in Ghana should design basic courses in plumbing, electronics, mechanics, masonry, carpentry, computer literacy etc. for our white-collar, handicapped university graduates.

These courses can be taken on part time basis in the evenings. The inscription on the crest of my Alma Mater, St. Augustine College in Cape Coast is "Omnia Vincit Labor" ( Labour conquers All ). Ghana needs well educated HANDY persons.
I was amazed to learn that Dr. Fred Lobay, the senior medical officer in Smoky Lake Hospital was an accomplished farmer and also an award-winning recreational fisherman. His backyard garden was just spectacular. He himself worked in the garden with his wife Mary, who was a professional nurse.

I am strongly of the opinion that our theoretical academicians in Ghana should now put aside their academic gowns and caps and start to put on hard hats, work boots, work gloves and blue-collar overalls to participate in real WORK. After completing their purely academic studies, GHANAIAN UNIVERSITY GRADUTES should willingly enrol in basic courses in plumbing, carpentry, masonry, electrical repair courses etc. to become real HANDY workers.

This is the time for Ghanaians to stop looking down on blue-collar workers. In Canada many hard-working plumbers, carpenters and electricians make as much money as good doctors and honourable lawyers. Many blue-collar workers own and operate their own businesses and do not depend on the government to employ them.

They get real contracts and do the work involved meticulously. The ficticious and fraudulent consultation contracts, which many of our top level academics indulge in must stop. Many of our high level academicians in responsible positions have become LIABILITIES instead of ASSETS to our motherland, Ghana. Theory GUIDES but Practical Work DECIDES !!!

2ND QUOTATION: "WHEN YOU EDUCATE A MAN, YOU EDUCATE AN INDIVIDUAL; WHEN YOU EDUCATE A WOMAN, YOU EDUCATE A FAMILY"

When Achimota School was being established, Aggrey strongly suggested that it should be a co-educational institution. He stressed the importance of educating girls.

It is obvious that the education of girls is important in the development of progressive societies.

3RD QUOTATION: "YOU CAN PLAY SOME MUSIC ON THE BLACK KEYS OF AN ORGAN; YOU CAN PLY SOME MUSIC ON THE WHITE KEYS; BUT TO MAKE THE BEST MUSIC, YOU NEED BOTH THE BLACK AND WHITE KEYS"

In 1921, Aggrey arrived in South Africa as part of the America delegation of the Phelp-Stokes to help bring about better and harmonious racial relations between Africans and Europeans, as well as to examine the conditions and opportunities of education among Africans. It was during this assignment that he made the statement quoted above.

It is noteworthy that this statement had something to do with the Crest of Achimota School.

4TH QUOTATION: "NOTHING BUT THE BEST IS GOOD ENOUGH FOR AFRICA"
This quotation summarises Aggreys passionate wish for our continent. At this point, I would like to state that ALL THE 55 COUNTRIES that make up the continent of Africa need a sound system of education. The type of education that trains THE HANDS to help make an individual socially efficient as Dr. Aggrey suggested.

President Obama, in his best seller, The AUDACITY of HOPE (Page 162) has made an important statement, which all politicians ( especially in AFRICA ) should ponder:

"If we're serious about building a twenty first century school system, we're going to take the TEACHING PROFESSION seriously."

Dedicated and well-qualified teachers are THE PILLARS OF DEMOCRACY. On this 141st birthday of our famous educational philosopher, let the minister of education and all educators in Ghana resolve to think seriously about the definition of education according to Dr. Aggrey.

GOD BLESS GHANA!!!

Leo R. Sam (Retired Teacher)

Edmonton, Alberta, Canada

Writer's e-mail: lsam@interbaun.com