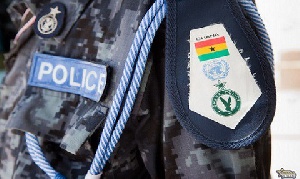 Crime is committed, it finds its way into the public (mostly through a video leak or sometimes media publications), there's public outrage and a lot of 'noise', police statements are issued, various ministers and state officials speak on the issue, donations are made, promises and pledges also, in some cases people are arrested, well then the case is sent to court and then after forth and backs, the issue fizzles out or rather 'dies a natural death' and years after, nobody talks about it till another issue related to this emerges…..
That may be a lot in one but really, this is what has become of Ghana, this, is the sad trend in Ghana now as far as issues of criminality involving police or national security personnel is concerned or on the whole, this is how 'serious' issues are treated.

It's more of a 'cry and make noise' and less of 'people being held accountable and punished accordingly'.

Examples? Well that's just one too many. How about we start with the case of Major Maxwell Mahama, the young soldier who was brutally murdered by an ignorant group of people with the 'dumb' excuse of mistaken identity, a year after all the uproar and the 19 suspects are still in court (though in prison custody awaiting the commencement of the committal process and the eventual trial) which in my view is taking forever.

Oh and we don't want to go into the numerous police 'shoot's suspected robbers' stories, there's like a bill of them on the internet; the Shiashie case, the GSTS student case, the Kumasi case where 7 people were killed, and the battering of the middle aged grandmother…. the list goes on and on.

My biggest headache out of the lot at this point, is whether the laws are working and just to implore Kenpong's words, 'Who watches the watchman'?
Of course, the police is doing remarkably well to reduce crime and improve security and safety for citizens in the country. Just some months ago, there was an absurd increase in robberies, even daylight where robbers with guts were attacking and killing people, the police and government intervened and we can confidently say now, that there has been a significant reduction in such cases.

On the other hand, aside being the 'protectors', they also are human and I also acknowledge the fact that several brave policemen have been killed in line of duty.

Fair enough but who is responsible, DIRECTLY RESPONSIBLE for ensuring that policemen, soldiers are disciplined enough to desist abusing their power by unduely attacking civilians and in some cases killing 'innocent' people with the excuse that they are 'suspected' robbers.

The impunity must stop, government must sit up and leadership of Ghana's security agencies must get their acts together and stop defending the wrongs of their people, you wouldn't defend your colleague if he hit your son or daughter, brother or sister, father or mother, don't condone wrong just because it's the family of another person.

It's high time people started PAYING for things they do, it's time the laws started being enforced and with speed, not reluctance.