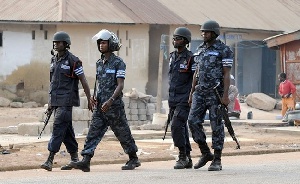 The issue of whether to have a police man as a friend or not has been debated amongst friends and even acquaintances in the country making the subject neither a secret nor a novel. From academia's Lecture Halls through the corporate organization's customer cares suit to the Artisans' workshop; from the politicians' constituency to the farmer' at Ejura exists a debate basically on reasons for chosen a police officer as a friend or not.
While others raise the issue teasingly in the presence of police officers they encounter, most of these arguments take place behind the men whose duty it is to protect life and property and maintaining law and order in Ghana.

For me, I think the essence of this continues debates about establishing the professionalism of fairness and firmness the police attaches to their law enforcement duties.

I prefer we have the police as our friends if we believe that providing needed security and fighting crime is a shared responsibility between police and the public.

It's therefore imperative that those who hold the opinion that a police friend will ask a colleague to effect his or her arrest when offence is committed to have confidence in that law enforcing officer who will be firm in his or her duties irrespective of relations with the offender.

Also, those who believe that without a police as a friend means, always arrest with no one to help should have a change of their reason because the police will always be fair to it that the law of the land is obeyed.

I think that as citizens we should not take the fairness of the police as their weakness expecting them to pat offenders back if he is suspected to be involved in a crime. We should be rather calling for police to be fair in handling all cases reported which I believe they are aware of.
In fact, the argument points out to the fact that the police has remained fair, focus, and strict in enforcing the law irrespective of whom is on the wrong side of the law.

Let us, therefore, make them our friends for the sake of peaceful societies where the criminal is exposed, giving no room to operate and dealt with according to the law in case they are arrested.

Anyway, I also laughed over it whenever that discussion popped up but with an aim of trying to understand the purpose for which they would find a police as a friend or not.

I have learnt that it's proper to have a police service with its personnel so friendly and professional that no matter the relations when one offends the law will be arrested and deal with them accordingly.

What we must do therefore as citizens is to be guided by the rule of law which is necessary to ensure our human rights are respected and not violated. It's also necessary for us to have a police as a friend who will protect us not only because we are their relatives.

I must also say that one way to ensure that fundamental human rights of the citizenry are respected is to recognize the police officers role of enforcing the laws of the country.
It's for this reason that I appeal to fellow Ghanaian to establish a good relationship with the police so that together we can fight crime to the lowest level if not eliminate it completely.

This is because it's proven that a community where the police officer is seen as a friend who provides security and safer environment has low crime rates. Such communities are even safer if citizens provide the police officers with helpful information leading to the arrest of criminals who terrorized that society and the police also ensure these criminals are dealt with according to the law.

Let us not impede the efforts of police by falling into the criminals resolve to make the police unfriendly, letsinstlet's still have police as friends who we share information of criminals identities, activities, and hide outs with so we can help provide security in our country.

DAVID FIANKO-OKYERE

opomeabakwabena@gmail.com