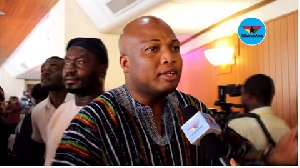 Prof. Raymond Atuguba has revealed the uncomfortable truth in the University of Education, Winneba saga.
No one can deny the fact that since word got out sometime in 2015 that the University Council's Search Committee had recommended the appointment of Prof. Mawutor Avoke as Vice Chancellor, there were many maneuverings ostensibly to torpedo Prof. Avoke's selection as VC and also to have the Finance Officer Dr. Akorli removed by hook or by crook.

I recall the numerous petitions (copies I still have) largely based on ethnocentricity to the Ministry of Education and then to the former Vice President Paa Kwesi Amissah-Arthur (God bless his soul) seeking to invoke their intervention, remember my boss at the time, Prof. Naana Jane Opoku-Agyemang and the former Veep all hail from the Central Region. I must emphasize to the credit of these two that they refused to be part of an unholy conspiracy against Prof. Mawutor Avoke in favour of a son of the Central Region and their own brother Rev. Prof. Anthony Aful-Broni, as the conspirators had framed their pitch at the time.

As my boss Prof. Naana Jane Opoku-Agyemang will later point out when this matter came up for discussion, "Sammy, those petitioners must know that this is not how we build world class institutions." She will remind me that, all VCs of the University of Ghana have not been Gas, neither have all VCs of KNUST been Ashantis. Her own University of Cape Coast where she famously became the first female Vice Chancellor of a public university in Ghana has had Vice Chancellors from all over Ghana including her successor, Prof. Domwine Kuupole who hails from the Upper West Region.



Eventually, the University Council settled on Prof. Mawutor Avoke ignoring all the background shenanigans that Prof. Aful-Broni who apparently had placed a distant second according to the Search Committee's report be selected simply because he hailed from the Central Region.

As I recall, in November 2015, at the investiture and induction of Prof. Mawutor Avoke, in my speech which was well received by the way, I decried the tendency by some to want to regionalize and tribalize our institutions which does not augur well for the modern university which should be the acme of a higher institution of learning.
I also condemned those petitions and drew attention to other Vice Chancellors of that era. I asked if folks in the Western Region insisted one of their own be made VC at UMaT, what will happen to Prof. J.S.Y. Kuma who was VC at the time. I posed similar questions about Prof. John Gyapong, VC of UHAS in Ho who is Akyem. Prof. William Otoo Ellis, VC of KNUST who's Fanti and so on and so forth. Should it matter where a VC hails from? I asked. It was quite unfortunate that I had to take this trajectory during my speech at a higher institution of learning in this 21st century but it was imperative that I did because of how the cabal Prof. Atuguba refers to had poisoned the atmosphere and I remember how loud the applause was coupled with several days of commendation from many in the top echelons of the University including progressive sons and daughters from the Central Region who supported our stance against wrongdoing and backwardness.

So I can indeed confirm that Prof. Raymond Atuguba has spoken truth to power as has become his reputation. In the process, my reverence for him has notched even higher.



It must be acknowledged that the President's attendance to Prof. Aful-Broni's induction yesterday was wrong, capricious, an affront to the rule of law and indeed most ill-advised. It does appear our President continues to be misled at grave consequences to the State.

The Mahama led Government determined to allow institutions to work had refused to interfere with the decision making processes of the University Council and the National Council for Tertiary Education as the Constitution demands, thereby refusing to align, facilitate, support or legitimize the actions of this cabal and their political collaborators. It is deeply troubling and tragic that we cannot say same for the Akufo-Addo Government.

The Akufo-Addo administration should be cautious about the precedence it sets and the real threat of a boomerang effect if we continue on this rather reckless path.
Elsewhere, universities are totally insulated from ethnic and political considerations while the focus is on resourcing them as centres of excellence in the advancement of knowledge to make our world a better place.

During our time at the Ministry of Education and thanks to the visionary President John Mahama, we championed a major resource mobilization effort known as the World Bank Centres of Excellence initiative that brought in some US$ 24 million to support research in our universities. At great cost we established state of the art Petroleum Engineering Labs at the UMaT, KNUST and the Regional Maritime University. We did also construct for the first time in this country's history a four-storey Veterinary Medicine Building Complex for KNUST in Kumasi and not forgetting the coveted Amatrol Labs in Technical Universities and Polytechnics.

We took the view that in an era where other universities were engaged in groundbreaking research such as editing Human Embryos, creating Metallic Hydrogen, Gene Editing, the phenomenon of SpaceX Recycled Rockets, new exploits in Artificial Intelligence and the wonder of Synthetic Wombs imitating a woman's uterus, we could not afford to waste precious time on needless causes that only divide us and with the tendency to destroy our respected educational institutions.

It is really heart-wrenching that in this day and age Ghana will be retrogressing by engaging in this kind of primitive impishness.

I weep for Ghana and May God save us.