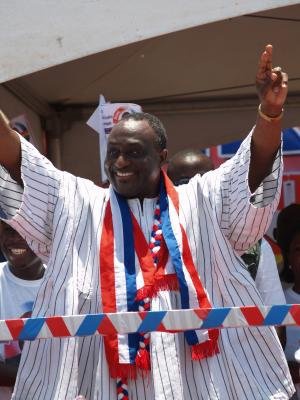 Profile of Alan John Kwadwo Kyerematen, the Next NPP Flagbearer

Alan was born on October 3, 1955 to the late Dr. Alexander Atta Yaw Kyerematen from Patase, Kumasi and Victoria Kyerematen (née Welsing) from Elmina and Ejisu. He was named after an Anglican Archbishop from England, The Most Reverend Alan John Knight CMG DD who was the Headmaster of Adisadel College, and a mentor to his father, A.A.Y. Kyerematen when the elder Kyerematen was a student at the school in the 1930s.


As a result of his mixed ancestry, he speaks Twi fluently. In addition, he is fluent in Ga, Fante and some French. He is married to Patricia Christabel Kyerematen (née Nyinah) who is the daughter of Justice Kingsley Nyinah, Ghana's Electoral Commissioner during the 1979 presidential election. They have two children namely Alexander and Victor.


Alan John Kyerematen attended the all-boys Anglican boarding school, Adisadel College in Cape Coast for his secondary education. He entered Adisadel College at the record age of nine (9) years, and thereafter attended the prestigious Achimota School for his sixth form education. He proceeded to the University of Ghana, Legon for a Bachelor's degree in Economics. Alan Kyerematen also holds a Law degree, LLB from the Ghana Law School at the same university where he qualified as a Barrister-at-Law. He was called to the bar in Ghana, and is a practicing attorney–at-law in Ghana. In addition, he is a Hubert Humphrey Fellow of the School of Management at the University of Minnesota, U.S.A, having completed one year management studies under the Fulbright Fellowship program at that institution.


Alan's Loyalty to the NPP


Mr. Alan Kyerematen has been a leading young stalwart and key strategist of the NPP since its inception in 1992. He is a Founding Member of the New Patriotic Party (NPP) and has also served on the highest decision-making bodies of the NPP that shaped the Party's strategic direction both in opposition and in Government, including:

• NPP National Executive Committee (NEC), serving as a member from 1992 to date;


• NPP Economic Management Team NPP Finance Committee.


• He is also a Founding Member of the Young Executive Forum (YEF), a powerful advocacy and lobby group within the Party which played a major role in galvanizing the professional and business community to support the growth and development of the party, as well as mobilize a new generation of party faithful and young leaders.


• As Chairman of YEF from 1992 to 2001, he symbolized the essence and spirit of the new generation of party leaders.


Hon. Kyerematen has been one of the privileged few to have held membership of the National Executive Committee (NEC) for over a decade, under successive Chairmanship of Mr. B.J. DaRocha, The Right Hon. Peter Ala Adjetey, H.E. Odoi Sykes and Mr. Harouna Esseku. As a result of his contribution to strategy development within the Party, he was appointed as a Member of the NPP/CPP Great Alliance Negotiating Team in 1996.

Mr. Kyerematen made an attempt at the leadership of the New Patriotic Party in 2007, capturing 32.3% of votes cast. He was first runner-up to Nana Ado Dankwa Akufo Ado who gained 47.96% of votes cast. Alan was approached by Akufo-Addo to galvanize Asante votes in the 2008 run-off, a job he successfully executed. He made a second attempt at the leadership in 2010 where he placed second to Nana Akuffo Addo.


Alan is definitely contesting the NPP Flagbearership position for the third and it is expected that the NPP delegates would give him the nod in order for the party to win political power. Let's all join the new group; Get Alan Kyerematen Elected (GAKE) for we need one more change for power.


Vote Alan! Vote NPP!!


Katakyie Kwame Opoku Agyemang, Asante Bekwai-Asakyiri. Email: katakyienpp@yahoo.co.uk Mobile: 0547851100 : 0264931361 : 0202471070