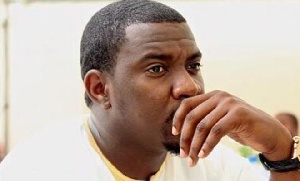 By: By Kofi Thompson
If it is indeed true that John Dumelo, the actor-turned-NDC-politician actually offered to pay the leader of the security task force sent to retrieve two state-owned vehicles - one of which he apparently falsely claimed to have purchased from Sivani Motors, off the Spintext Road - then the Ghana Police Service must be

quickly informed.

The Criminal Investigations Department (CID) of the Ghana Police Service must then be tasked to investigate the matter - by first interviewing the leader of the task force sent to retrieve the two vehicles from John Dumelo: to get the full facts of the matter from him first.

If Dumelo is found to be culpable, then they must charge him for misleading a police officer carrying out an investigation.

He must also be charged for offering to bribe the said police officer (and by extension other members of his team) so as to induce him to stop the investigation he was carrying out from reaching its logical conclusion: that, on top of the very serious crime of deliberately misleading a police officer on an important national assignment to retrieve stolen state properties, so as to hamper his task.
The CID must then process him for court to be prosecuted for attempting to bribe security afficials sent to recover two state-owned vehicles given to him by unknown persons who clearly had some influence in the previous regime.

John Dumelo is a classic example of all that was wrong with many of the super-ruthless spongers who hitched a ride in the first-class carriages of the Mahama-gravy-train.

Those carriages were full of third-rate individuals - greedy and selfish opportunists without moral compasses: who gravitated towards polititics just to enable them grab as much of the nation's resources as they possibly could for themselves at Mother Ghana's expense.

The question is: Who in the Mahama administration caused two V8 Toyota

Landcruisers to be allocated to John Dumelo - and why were state-owned vehicles originally allocated to the national security apparatus given out to him?
Perchance, was he an agent of Ghana's secret services? And if yes, what exactly was his role in the national security apparatus?

Finally, if it is wise, the Akufo-Addo administration will ensure that John Dumelo is charged and prosecuted.

He must not be allowed to get away with making the false claim that he purchased a black-coloured V8 Toyota Landcruiser - with vehicle registration number: GE 8118 "16 and chassis number: JTMHVOJ2F4159829 - from Sivani Motors off the Spintext Road, when he was interviewed by the leader of the security task force sent to retrieve two state-owned vehicles from him, when he knew perfectly well that that was a palpable falsehood.

Clearly, that thoroughly dishonest and cynical fellow was attempting to hijack a state-owned vehicle. Shocking. Disgraceful. Shortsighted. And, extremely foolish. And to think such a deceitful individual was dreaming of a ministerial position in the next Mahama administration after the 2016 presidential election. Incredible. No wonder poor Mahama lost the presidential election.

Dumelo's prosecution will send a clear signal to all the clever rogues who took our nation for such a gigantic ride when Ghana was under the thumbs of genuises like the Stan Dogbes - too-clever-by-half chancers who gave the National Democratic Congress (NDC) regime that worked so hard to build a new Ghana, infrastructure-wise, a thoroughly bad name with their blockheaded impudence, arrogance and the unfathomable greed that drove everything they did for poor President Mahama.
They must all be prosecuted for partaking in the brutal gang-rape of Mother Ghana during the Mahama-era: One after the other - following thorough investigations by the national security apparatus into their backgrounds: bank accounts; filed tax returns; and audited business accounts if they own any legally registered commercial entities - to discover all wrongdoing committed by them during the NDC era.

A man who is reported by journalists (after the incident with the team that took back his state-owned V8 Toyota Landcruiser) to have allegedly claimed that the business model of the vehicle importing firm supplying vehicles to the national security apparatus from which his siezed SUV was purchased by the national security apparatus, was a cover to enable it evade taxes needs questioning at the very least.

None of these shameless Mahama-era rogues, must be allowed to get away with ripping-off Mother Ghana, so. Ever. Period. John Dumelo must be prosecuted and jailed. Full stop. We rest our case.