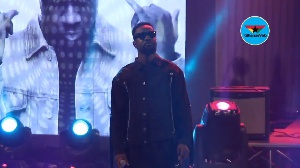 Sarkodie had hosted his annual musical concert dubbed "RAPPERHOLIC" at the National Conference Centre on the 25th December, 2018 which according to report, the auditorium got crowded since patrons and fans who trooped to witness the concert were considered to be a double number of the capacity of the Auditorium.
Entertainment critic, Kwame Gyan has laid out his submission over the just ended RAPPERHOLIC concert which reads:

Rapperholic2018 was a Disaster: This is Why!

I was absolutely disgusted by Sarkodie's December 25th concert – Rapperholic. Since 2012 when the annual event started, the 2018 version is the worse in its history. I have been to all but one of the previous editions. Let me try and break down.

Ticketing

Flawed ticketing is at the crux of the mess at this year's show. Clearly organisers sold more tickets than they knew the Conference Centre could take. I had a VIP ticket but could not go beyond the gate of the auditorium. That was how packed the venue was at 9pm. I am told that there was commotion earlier which led to fans breaking down the door to enter the auditorium. What that meant was that regardless of the ticket type that people had, they simply sat wherever they pleased.

The folks at the gate also didn't destroy tickets after handing bracelets to people. My suspicion is that they sold them back through the black market.

Even perhaps more scandalous was the tweet from Sarkodie himself earlier that they had printed more tickets for those who had not gotten tickets. First of all, that showed that they didn't care about matching tickets to auditorium capacity and I find that very irresponsible.
Respect for Audience

Organisers of Rapperholic, Big Ideas and Event Factory, had no regard, respect and consideration for patrons and fans. By selling many more tickets than the Conference Centre could take, it meant audience safety and comfort was thrown to the dogs. People who had purchased so-called VIP tickets for 200 cedis were confined to standing in the aisle or to go fetch plastic chairs with the hope that they will find a place to put them and sit – most didn't find the chairs and those that did, they had no space to place them to sit on.

Event organisers took audience respect back to the Stone Age and they didn't give a hoot about the consequence. How do you charge patrons for a service and not offer that service?

That Lousy apology from Nana Aba Anamoah

"Concert de3, enoa ne Rapperholic (The only concert there is, is Rapperholic) and everyone wants to be here".

That was how Nana Aba attempted an apology. I pitied her because she was torn being a journalist who takes authorities on for what they do or fail to do, and being a Sark fan and 'introducer' of the rapper. But that clearly was a lousy statement and the apology that followed was just as lame. I expect Sarkodie to apologise for the shambolic organisation, and as well, demand an immediate review of what caused all that – including his own involvement with that tweet that announced the printing of more tickets.

Show should have been shut down over safety consideration
See, we take a lot of things for granted in this country. We are waiting until a tragedy occurs as a result of overcrowding before we pretend to care and take action. I know that permits are often sort from the Fire Service and Police for events of this calibre. The Fire Service should have ordered for the closure of the event over safety consideration. A venue meant to take say 2000 people had twice that number and yet we made it go on.

If an accident had occurred and lives lost or people injured, we would have now come forth speaking English and pretending we had no idea it was that bad. One day we will not get that lucky and the blood of our people will be on the hands and conscience of people.

Authorities must be up and doing with their job. When event organisers learn that they stand a chance of getting shows shut down over safety concerns, they will be sensible in their planning, ticket sales and all that. As it stands now, we have rich event organisers and tired patrons who had a horrid experience at a show they should have had mad fun.

A bigger venue a must, or re-define concert

Sarkodie is a rapper. Rap largely goes with standing and bouncing and nodding the head and all that. But when you just an event at a place like the Conference Centre, you are combining seating with standing. But even the Stadium has a limit on how many people it can accommodate. When you decide to pack many people than the venue can take, then you are in trouble.

I am reliably informed organisers had considered the Fantasy Dome. But for some reason opted out of it. If Sarkodie wants a concert where as many of his fans can attend, then he should not host it at the Conference Centre going forward.

Sark's fans are loyal enough to follow him to any venue he decides, including the Stadium. It's not rocket science. If for some reason it's the Conference Centre he wants, then he should abide by common sense and sell tickets that do not outnumber the capacity of the venue.
Event not fit for TV

A friend of mine with expertise in TV production and the various aesthetics involved tells me that the show lighting was not considered for television. Dark spots all over the stage and its a 'crime' in television language to have black on screen.

LED screen graphics were also generic. They were almost what the presets that come with the system being used over and over again. Nothing was designed to suit any artiste performance or their songs. So obviously no coordination with the song, lights and graphics. No story being told.

It was as if the show was an afterthought and the team just dressed up on the evening of December 25 and just walked into the Conference Centre. You didn't need to be an expert to realise this. I was personally looking forward to how

Yes, these may not be Sarkodie's fault but it was his show so ultimately the pluses and minuses will be laid at his door step. For the TV part we must blame the folks at Fiesta TV who shot this for dstv. It sucked on TV and this was a chance for them to prove what they are worth buy they flunked it. They succeeded in carrying the mess at the venue straight on to TV when ideally a TV produced show out to be better for the consumer than those in the auditorium.

Sarkodie's Performance was below par

I have seen Sarkodie perform a lot of times. I have seen him at Rapperholic a lot of times. This was no where near an A-class performance. Not even a B-class. Perhaps a good C-class. He could have done better. He does better all the time. Sarkodie seemed to forget his lyrics, mis-timed his breathing, mimed too much and was simply out of sorts.
Additionally I expected a lot more verve and creativity in his delivery. I looked forward to how Sarkodie and the ten newbies were going to perform Biibi Ba. See how dope the video is and how tight the punchlines in that song is? Did that performance come anything close to it? Nope.

Then we had a choir of 12 or so who had 4 microphones that were in the hands of four people. Clearly they were not singing but made to look as though they were.

We also had the issue of poor performance arrangements which had other acts in between his performances without necessarily linking up to his act.

Disgrace to the Sarkodie Brand and Ghana

I feel the Sarkodie Brand suffered an image damage yesterday. I feel Ghana suffered an image damage yesterday. Sarkodie is our biggest rapper. He is our biggest musical export to the world. This show did not give credence to the big boy Sarkodie is. People watched it on TV and left with an impression that Ghana TV production sucks and Ghanaian artist suck at performances. I expected a lot more from this show.

Conclusion

I remain a huge fan of Sarkodie and I am looking forward to Rapperholic2019. Hopefully the team looks beyond the loads of pretentious praises and focus on the few, hardened criticism to improve on it for next year.