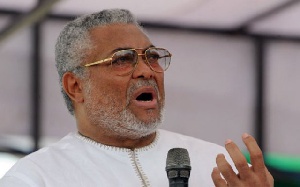 Let us face it, though, the spate of vicious and calculated armed robbery attacks on innocent citizens and denizens is really worrisome and beyond anything but normal.
It is against such background that I could not agree more with former President Rawlings for fretting and praying that the recent deadly armed robbery attacks in the country are real robberies and not the work of unpatriotic partisan creatures motivated from either within or without to undermine the nation's security; (See: I hope robberies are not politically motivated-Rawlings; starrfmonline.com/ghanaweb.com, 01/03/2018).

Ex-President Rawlings is reported to have expressed grave concern over the recent armed robbery attacks and consequently wrote on his Twitter page: "Let us hope the recent robbery and killings is downright plain robbery and not a politically motivated action from within or without, calculated to undermine those in charge of the security machinery in order to pave the way for certain parochial ambitions."

And given the ugly nature of African politics, some of us cannot help but to echo former President Rawlings's sentiments of a probable conspiratorial plot to undermine the country's security and the NPP government as a whole.

Why wouldn't a security conscious individual like former President Rawlings smell foul play when some people are only hopping from one Radio/Television station to another nagging, shrieking and grouching over the serious national disaster such as the recent bloody armed robbery attacks without proffering any practicable solutions?

How on earth would a supposedly responsible opposition persistently assemble at unity health walk centres with the view to inciting the public against the incumbent government over a long-standing societal menace?


I, for one, would rather like to go with the contending schools of thought who have been raising concerns over the identities of the over twenty thousand people whose names have been rightly removed from the Youth Employment Agency's payroll for taking undeserving monies during the erstwhile NDC administration.

We should indeed be extremely worried over the whereabouts of the twenty thousand faceless individuals who were being paid huge sums of monies without a sweat and the prudent managers have rightly expunged their names from the payroll.

The overarching questions we should rather be interrogating further are: are those faceless people party foot soldiers? Are they working following the removal of their names from the YEA's payroll? If they are not eking out any income, what are they doing at the moment? Are they aggrieved for having their names expunged from the payroll for taking undeserving wages? Could the recent armed robberies be deemed as reprisal attacks then? Your guess is as good as mine.

Well, much as I do not want to succumb to the widely held assertion that politics in general is a dirty game, it would not be farfetched for drawing an inference that the political terrain is full of manipulating geezers who will do anything possible to win political advantage.

We should, however, not lose sight of the fact that political opportunists are not limited to Africa; it is rather a global phenomenon. However, in my humble opinion, it is our part of the world (Africa), where political gimmicks and extreme vindictiveness are widespread.

Perhaps, more than anything else, this is so because we have greater number of unlettered folks, many of whom cannot choose between unrepentant tricksters and morally upstanding politicians.
Like former President Rawlings, I smell the evil hands of the faceless partisan creatures in the recent armed robbery attacks on innocent citizens and denizens.

Perhaps, more than anything else, it is an orchestrated attempt to make the incumbent NPP government look bad in the eyes of the voting public.

How unpatriotic, how cruel, how malevolent, and how pathetic some heartless creatures who rather preferred to be called politicians could be?