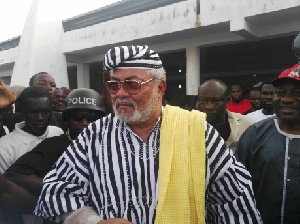 Like a river which starts in its youthful stage, flowing slowly from its source then at its middle stage is full of force and works ferociously towards its old age before ebbing slowly into the sea, what are you going to do at age 70 and thereafter?
Former President J.J. Rawlings tells me in an interview I had with him early this year that he was going to write his memoirs and from all indications, it will be a must-keep and must-read.

The former President marks his 70th milestone on Thursday and as part of activities to mark the birthday celebration, a public symposium on environment will take place at the Ghana Academy of Arts and Sciences Auditorium tomorrow.

At age 70, Flt Lt Rawlings is yet to embrace the traditional retirement and continues to 'boom' without minding whose ox is gored in defending the vulnerable in society through wide-ranging public commentary on social and political issues.

He still remains politically active, loves to watch news and documentary channels on television and with passion, has happily embraced chat application, WhatsApp.

Love or hate him, Ghana's history cannot be written without the name of Flt Lt Jerry John Rawlings who turns 70 on Thursday, June 22, 2017.

Globally admired for his charisma, sincerity, drive, patriotism and participatory leadership approach, Rawlings is also known for his anti-corruption credentials and for his unwavering advocacy of social justice, political and socio-economic empowerment of Ghana's people. But his political opponents have also insisted that he preaches virtues but practises vice.

Journey to heroism
Such is the man who burst onto the country's political scene to become a national hero of our time.

His journey to heroism began with a failed coup attempt on May 15, 1979, when his insurrection was botched by Major Sulemana. All he needed to do on that troubling Monday was to stand by his conviction and tell the court martial that was trying him for mutiny to "leave my men alone" and took full responsibility for the events on that ill-fated day.

The heart-thumping speech he gave during his trial resonated with a large section of the public that rose up in his defence. While awaiting his execution, Rawlings was sprung from the Special Branch (SB), now Bureau of National Investigations (BNI), cell on June 4, 1979 by a group of soldiers who were sympathetic to his motivations.

He led the insurgency that ousted the Supreme Military Council II from office and installed the Armed Forces Revolutionary Council (AFRC). He thus burst onto the political scene as the youngest head of state at age 32 and thereafter supervised a transition to civilian rule.

Head of State at 32

At 32, Flt Lt Rawlings was the youngest head of state the country had ever had and for a brief period between June 4 and September 24, 1979 he brought a potentially chaotic popular uprising under control and handed over to an elected government.

The AFRC conducted what he termed "a house-cleaning exercise" whose aim was to purge the Ghanaian society of all the corruption and social injustices that members of the junta perceived to be at the root of their coup d'état.
After initially handing power to a civilian government in September, 1979, he took back control of the country on December 31, 1981 as the Chairman of the Provisional National Defence Council (PNDC).

In 1992, Rawlings resigned from the Armed Forces, founded the National Democratic Congress (NDC), a political party established on the ethos of social democracy, and contested in an election which he won to become the first President of the Fourth Republic. He was re-elected in 1996 for a further four years.

He thus was the Head of State from 1981 to January 6, 2001.

President at 45

In 1992, Rawlings retired from the military and founded the NDC. He legalised political parties and organised presidential and parliamentary elections in response to demands for a more democratic process concerning the governance of the country. Rawlings and his party won with 58.3 per cent of the votes, with international observers declaring the exercise to be "free and fair."

In 1996, Rawlings went on to win a second term as President.

After two terms in office, barred by the Constitution from contesting any election, Rawlings endorsed his Vice-President, Professor John Atta Mills, as the party's presidential candidate in 2000.
End of term at 53/Post-presidency

Per his constitutional mandate, Rawlings's term of office ended in 2001. He exited from the presidency at age 53.

Since then he has served as the African Union Envoy to Somalia since October 2010.

In November 2000, Rawlings was named the first International Year of Volunteers 2001, Eminent Person by United Nations (UN) Secretary-General Kofi Annan, attending various events and conferences to promote volunteerism.

He has given lectures in many universities, including the Oxford University, and has continued his heavy support for the NDC.

Awards and honours

October 2013: Honorary degree (Doctorate of Letters) from the University for Development Studies in northern Ghana.
This award recognised Rawlings's contribution to the establishment of the university. In 1993, he used his US$50,000 Hunger Project cash prize as seed money to sponsor the establishment of the state-owned university (founded in May 1992), the first of its kind in the three northern regions.

October 2013: Global Champion for People's Freedom award by the Mkiva Humanitarian Foundation.

Jerry John Rawlings was born in Accra, Gold Coast, on June 22, 1947 to Madam Victoria Agbotui (born September 9, 1919 at Dzelukope near Keta, in what is now the Volta Region of Ghana) and Mr James Ramsey John, a chemist from the United Kingdom, born in Castle Douglas, Scotland in 1907. Rawlings attended Achimota School.

Rawlings is married to Nana Konadu Agyeman with whom he has three daughters: Ezanetor Rawlings, Yaa Asantewaa Rawlings, Amina Rawlings; and a son, Kimathi Rawlings.