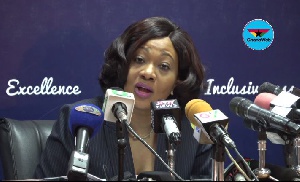 The EC is supposed to be an independent body, but it appears the EC under the leadership of President Nana Addo Dankwa Akufo-Addo seems to be very weirdly interesting and has now become a group of people working for the EC.
I find it very very difficult to understand the following questions.

1) Why will a council of state member very much interested in the compiling of a new voter register amidst the deadly Coronavirus pandemic?

We have heard Hon Sam Okudzeto calling on the EC to start the process of compiling a new voter register in the then unlock down areas in the country.

2) Why is Gabby Otchere Darko speaking about the new voter register and even went to the extent of saying President Nana Addo Dankwa Akufo-Addo presidential re-election ambitions are not tied to a new voter register when the entire NPP fraternity are much interested in a new voter register? Was Gabby's comments borne out of a U-turn as a result of failing process?

3) Has John Boadu been appointed as a member of the electoral commission without the knowledge of the Ghanaians?

Since when has General Secretaries of the ruling party assume the position of the PRO for the electoral commission?
Has the EC gone into a secret conversation with the ruling New Patriotic Party (NPP) without IPAC?

4) Could that be the reason why the president is endangering the lives of Ghanaians by lifting the ban when the experts are predicting bad days ahead?

5) Why will a leading member, minister and the Leader of parliamentary business, Hon Kyei Mensah Bonsu categorically state that the biggest opposition party, The National Democratic Congress (NDC) will never win elections in this country with a new voter register?

The posture and the utterances of government officials and executives of the New Patriotic Party is raising suspicion in the compilation of the voter register.

Can't the EC speak for themselves? The executive and government officials seem to be speaking the mind of the EC.

Why is the EC very much interested in compiling a New voter register in an election year amidst the pandemic?
We need to kick Coronavirus out of Ghana and not a voters register.

Ghanaians need to be protected from this pandemic

Dead bodies don't vote.

I remain a citizen and not a spectator.