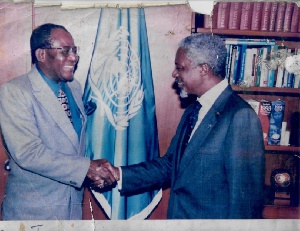 Since the passing of our dear headmaster, Francis F. Bartels, in 2010, and the former Vice President of Ghana, Paa Kwesi Amissah-Arthur, no other demise has shaken the Mfantsipim fraternity than that of the iconic international leader, Kofi Annan, in 2018. It was a pleasure to receive from senior Sammy Tay the following intimate recollection of a school mate he respected:
Dombo Annan

At Mfantsipim School, we called him "Dombo Annan." His idol was S.D. Dombo, later to be part of the troika known as the Danquah–Busia–Dombo tradition: the progenitor of the New Patriotic Party (NPP).

My father, Othniel Robinson Glover Tay and Kofi Annan's father – Henry Reginald Annan – were close friends, and were with the first batch of Gold Coasters to be appointed District Managers by the United Africa Company (UAC) now called Unilever – to take over from the white colonials. They were both ensteeped in masonic matters, and when they wore their masonic regalia – mini tail coat, starched white shirt and white bow-ties – we giggled behind their backs because that sartorial habiliment was alien to our culture. His father was to rise to the rank of Grandmaster of the Harmonic Lodge etc.

In 1954, the father and Kofi spent the Easter vacation with us in Keta, and that was the first time I got to know him. We slept on the same bed and ate together.
Mfantsipim school days

At school, Kofi was rather reserved, but whenever there was an argument about injustice, he was very eloquent. One day, there was a strike, and the boys boycotted the dining hall because of a punishment meted out to a student even though the culprit was not liable. As it turned out, Kofi was the brain behind those who organized the strike, and were called to the Headmaster's (F.L. Bartels's) office after breakfast. In those days, a call to the Headmaster's office after breakfast elicited murmurs, noises and cat-calls. This is because the cane was going to be administered.

Owura Butler, the Carpentry master was a fairly stalwart thick man, with thick lips and wooly hair, the typical anthropological negroid. He came with two of his carpentry boys. The table was 4 feet by 2 feet. You were stretched on it, your knickers pulled tight on your buttocks, and the cane – made of raffia stripes tied together with adhesive plaster – was administered, with the headmaster sitting behind his desk nodding in approval.

After the ordeal you stood at attention and saluted him as if thanking him for a flogging. Thereafter, the Headmaster told you that "the flogging would be entered on your Terminal Report" to be sent to your parents. At Mfantsipim School, discipline was strictly taught and enforced. No wonder the front page of the School Rules pamphlet said: "A breach of common sense is a breach of School Rules"
Meeting Kofi Annan at the U.N.

In 1999, I was in the United States on vacation. Through contracts I expressed the desire to see Kofi in person. Kofi's Secretary called Tera – of Ethiopian extraction, and a paragon of beauty – asked whether I was a Head of State, Prime Minister, Foreign Minister, Emperor or an Ambassador. I replied no, and said, please tell your boss that Sammy Tay is in town, and would like to see him for just 10 minutes.

On a Tuesday morning, I took out my Sunday best – a double-breasted Issay Miyake checked grey suit, a blue shirt by Christian Dior and a tie by Baleniaga.

At the main entrance, a U.N. security janitor – in the characteristic blue shirt and Khaki trousers – directed me to the lifts. Two security men opened the lift doors, and took me to the 34th Floor. As I got there, another Secretary ushered me into the reception room. I saw the Ghanaian Kente cloth called "Fathia fata Nkrumah" framed on the wall. A photographer soon entered the reception room. I was asked if I wanted coffee or tea. I politely replied, No thanks.
After about 5 minutes, I was led to Kofi's office at the extreme end of that floor. Then the boss shook hands with me, hugged me, and beckoned me to sit on the settee with him. The first question I asked him was, "Do you still remember Dombo Annan?" He burnt into uncontrollable laughter. I am sure this made the Secretary start eavesdropping, because she had never perhaps seen her boss laugh so heartedly.

Poise, elegance, and beauty

Instead of the 10 minutes I asked for, we talked for about an hour and fifteen minutes. As he led me to the lift, all the 25 Secretaries who worked directly under him came out of their offices and stood in front of their cubicles nodding as the big man was escorting me. Looking at his secretaries from various countries of the globe – from their silhouette, poise, elegance, beauty and dressing – one would imagine watching a fashion model cat-walk in Paris. Then I whispered to him, "My brother, you must be working under tight temptation here." He laughed and replied, "Here, everybody is a spy."

The lift arrived; we shook hands and he bid me farewell. Later, he sent me the photograph taken in his office which I have framed in a glass and golden wood hanging in my living room. I shall make sure it is inside my obituary brochure.
Email: anishaffar@gmail.com

Blog: www.anishaffar.org

Published by Anis Haffar

Anis Haffar is committed to preparing a new generation of teachers and students for national and international leadership. In the U.S he taught for 10 years with the Los Angeles Unified School District, and coordinated a Gifted And Talented Education (GATE) program. In Ghana, he trends in Education, and Leadership. He attended Mfantsipim School, Cape Coast (Ghana), and earned a degree in Business at California State University, Los Angeles. He did his graduate work at the English Department, Pomona for a Licensed Teaching Credential in English. He is a proud father of three wonderful girls - Yaba, Essi, and Felicia View all posts by Anis Haffar