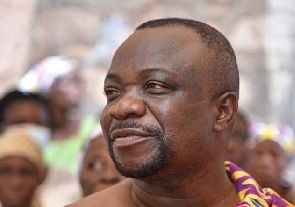 Kofi Adoma Nwawani and the Oheneba Media are circulating a video on social media alleging that Kumawu member of parliament, Philip Basoah (Hon), died as a consequence of an invoked curse. Their claim is absolute balderdash, a figment of their warped imagination.
Their claim has been seized upon by some corrupt, useless, and hollow-minded so-called fetish priests who will want the relatives of Philip Basoah to come and see them perform some rituals before conducting his funeral.

The video that these two useless social media fanatics have based their claim on was made by an NPP member who was annoyed about Freduah and the Constituency Chairman, Danso, allegedly taking bribes to campaign against Basoah during the election 2020.

The said NPP man went his way to invoke a river god curse on those two mentioned NPP executives, thus, Freduah and Danso, saying if they had indeed taken bribes to campaign against Basoah, the river god should deal with them, unless the suspected culprits came to him, the invoker of the curse, to tell him the entire truth.

How does such a curse affect Basoah but not the invoker himself, if indeed, the curse was so potent to kill?

I think I had in the months or weeks leading to the election 2020 published that video along with a recorded voice message by one alleged disabled person in Kumawu-Bodomase going by the nickname "opatuo". He was alleging the same crime against those two mentioned executives.
Listen carefully to the framing of the words used by the invoker of the curse before Tom, Dick, and Harry, make their conclusion.

During the invocation of a curse upon anyone, the choosing and framing of the words count so much. The words are chosen and how they are framed will determine the effectiveness or otherwise of the curse, thus, the success or failure of the invoker's intention(s).

It is not that invocation of curse on Freduah and Danso by a concerned NPP member, but not by Basoah himself that caused his untimely death.

His death could either be suspicious as coming from some of his arch-enemies, or natural death, a culmination of the political victimization, harassment, and hatred he was subjected to at the hands of the NPP hierarchy and the so-called NPP opinion leaders at the Kumawu constituency level.

Those two social media houses or platforms had better conduct proper investigations before coming out with their preposterous claims supported by fake fetish priests.