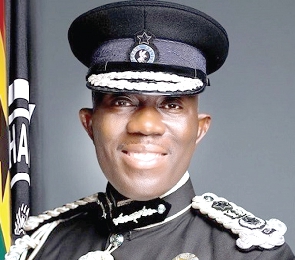 Betrayal has always been a spoilt stitch in the web of civilisation, one so powerful that many a wise have fallen victim to its infidelity. Never has an honest leader had peace of mind especially when the position is one of might and power. And, yes, amid hounds can be found lions who would instill the fear of GOD in the bullish packs of terror!
The Police service has, finally, found that LION! Don't liken him to the Lion of Judah, although he is just as protective of the institution that he heads. Dr. George Akuffo Dampare, current Inspector General of Police, has been at the forefront of the fight against corruption, cleaning up the Police Service that he heads. Leading by example, he is bridging the gap between the Police and civilians.

But, then again, it is said that a block was put on a dog's tail for a

thousand years to straighten it out, but as soon as it was removed, it curled right back up again. And so is the Police service that this honest no-nonsense man is leading.

So, COP Mensah had lobbied for the position of IGP since 2017, claiming to be an NPP person. So, must this give him a right to unbridled rebellion against the authority that he has sworn to protect? Or does it allow him an automatic entitlement to be elevated to that position? What he doesn't understand, and for that matter his assigns and colluders is that the position of IGP is not for betrayers, corrupt souls, and daft schemers who do not know where to grasp

the rope and when to tug it.
And some people who think that they have done some work as executives of my beloved party would betray the President and then rush to give him

tapes or so-called evidence of untoward behaviour, forgetting that President Akufo-Addo is not a novice in politics and would easily detect chicanery in between the lines.

Look, the NPP has always won elections on truth and ability. NPP does not rig elections, unlike the NDC which has never once won an election without the uncanny intervention of poltergeists and demons! So, why would any NPP person be worried about an IGP, who is unwilling to taint his hands with immorality, imbecility, and fraud? This is Dampare, that same person, who would arrest his friends or family members if they flouted the law.

Why would anyone bastardise his credibility if not for a botched boot contract given by a lesser officer to a politician or something of the sort? Again, what sense of entitlement is that? Why would any NPP person want to destroy the legacy of His Excellency the President by making it seem as if his choice for IGP was not a wise decision?

Look, before James Oppong-Boanuh was appointed as IGP, I asked the President why not Dampare, and he told me point blank that every era has its dynamics and its people to manage them. Then he added, "I cannot afford to get it wrong!" Verily, it came to pass.
Boanuh became IGP, succeeded by Dampare. You see, a young, energetic, and lively leader is an added plus. Under Dampare's leadership, a level of sanity is being instilled among the rank and file of the Police Service, although more needs to be done to curtail the consistent begging and harassment of road users by officers on the roads. I mean, how can a police officer around Assin-Manso stick his hand into my car searching under dusters looking for money after I denied him fiscal generosity? This canker, Mr. IGP, needs to be tackled with stringent measures, punitive and more! I trust you paa!

Dr. Dampare is a very well educated person with a flawless record in honesty and resilience. Those police officers and politicians who want him removed because he is not allowing them the benefit of entitlements that they feel are their "unconstitutional" rights because they have done one thing or another for him or the Party must bow their heads in shame. Must everything be about corruption and "chop chop"?

Can't we do an honest thing at all in this country? How about Ghana which we are all fighting for? How about the poor Ghanaian that we are so passionate about? How about the legacy of President Nana Akufo-Addo? Why are you people so wicked? Do you think that you can wash away the achievements of His Excellency by creating such a hurricane that is only big enough for a miserable teacup? As for

COP Mensah and the others who were interdicted for their brutish hogwash, I say a big shame unto you!

Ɛyɛ nokware sɛ fie biara Mensah wɔ mu!