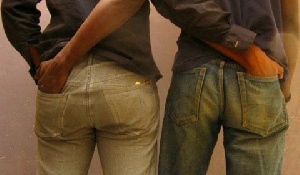 It was a huge magnitude of confusion that rocked not only the Methodist Church of Ghana but Christians and others in Ghana and, perhaps, Africa as a whole when the Methodist Church, UK, said it had [technically] approved same sex marriage.
"The bird," our elders say, "has no business worrying itself over a collapsed bridge." If it is a section of the world that has legalized homosexuality and same sex marriage for that matter, one would have thought that Christians had no business worrying themselves contemplating as to whether to indulge in the practice or not. Is that not so?

Nonetheless, that was not the case as the Methodist Church, UK, made it somewhat hard for its branch in Ghana concerning the issue of homosexuality.

Indeed, last week, all eyes were on the Methodist Church of Ghana. Many were the observers who patiently waited to hear whether the church here would approve their UK fellows' stance on homosexuality.

So, eventually, it happened that the issue was trashed and confided in the museum of history. The Methodist Church in Ghana, at a press conference, said that even if the country [Ghana] legalized same sex marriage, it would not bless such a union.

The issue of homosexuality has now become so topical and gained overwhelming support – worldwide – that many fear making their stance on it known publicly. If you speak against it, you are branded as homophobic. Again, speak against homosexuality and you are likely to be blacklisted and denied visa to countries that says they are upholding human rights. On the flip side, if you speak in favor of homosexuality, you are hailed as if you just won a lottery!

Sincerely, in my opinion, homosexuality should – ordinarily – not be an issue that deserves anyone's precious time for a second on deliberating on whether to legalize it or not. It is a total NO!

Recently, I wrote a lengthy article in which I called on my President, Nana Addo Danquah Akufo Addo, to legalize marijuana.

The said article titled, "Mr. President, unu wan mi fi tell unu legalize ganja?" got many insulting me. Many of these persons who insulted me – I later realized – never bothered reading what I wrote. They insulted me based on the headline. In that article, I gave research-based evidence on why – if possible – every country must legalize marijuana but restrict their citizens from abusing it as we see in Israel.

I, hereby, want to read from proponents of homosexuality on their reasons why they say we must at all cost legalize man-to-man and woman-to-woman marriage/relationships. Based on human right? If yes, I do not also have the [human] right to be an armed robber or smoke my marijuana?
In 2015, I lived at Spintex and worked at Abelemkpe; all in the Greater Accra region. I had always commuted to work by bus [trotro] until I decided to board a train one day.

On one busy morning when I got to the train station at Adogono at Spintex, a gentleman walked to me.

"I like your red shirt," he said.

"Thanks," I replied.

"I am a photographer and makeup artist. I like good colors," said the stranger.

"I see."

"So, what do you do?"

"I'm a pressman."

"Can I have your contact, please? I would be glad you publish a story for me."
As soon as he got my contact, he sent a 'hi' on WhatsApp. We were far apart in the packed train so he engaged me on the social media platform till I got down at Abelemkpe.

Daniel, the name he mentioned to me, initially proved to be genuinely interested in my work – journalism. He wanted to publish some of his supposed pictures in the media.

Then, within two days, this man was inviting me to his house.

"Hi Solomon, when are you visiting me?"

"Visit you? Like how, boss?"

"I'm inviting you to my house. Come and see my place."

"I see; it will be nice knowing your house but I don't have time for myself. I will let you know when I'm less busy," I replied his WhatsApp messages.

All along, it never crossed my mind Daniel had a hidden agenda.

"Hey, good morning. Since you are that busy, can I visit you instead?"
"Sorry boss, may I know why you are bent on visiting?" I replied.

"Do you live alone?" he ignored my question and asked me one instead.

When I told him I lived with a friend, Edward Balami, he was disappointed and would want me visit him instead. I said to myself, "This guy must be crazy!" True to my word he sent me the bombshell.

"You are handsome. Can you make love to me?"

I cringed at the message. In 'their world', he is a female and wanted me to make love to him. Really? When there are many God-created women around?

I blocked him [or should I say her?] on WhatsApp and deleted the contact. But hey, that was not all. About three years ago too, a young guy sent me a message on Facebook. My personal resolution is not to look down on any human being whether rich or poor; a child or an adult. So, I would usually give people who need my attention some time.

To my surprise, this young guy [per his profile picture, if that was him] started praising me on how handsome I am and how he liked my pink lips. Then, he also dropped the bombshell. He wanted to make love to me. He was a "he" and needed a "she". At this instance, I understood why some ladies ignore men who pressure them for love.

I was so annoyed but something told me to speak softly to him. I told him that I think he needed prayers and that I would remember him in mine. He needed to cut short his desire for his fellow man.

My third experience with gays was just last year. He was a "she" and was dying over me because I am handsome. Here was a man saying to his fellow man that he had monitored me for long and that he admired how I dress, too.
One of my closest lady friends discerned and advised that I ignore him. I indeed did.

On Saturday, July 20, 2019, a very good friend of mine – named Kobina Ansah – had his latest stage play shown at the National Theatre in Accra. The play titled The Boy Called A Girl had Pastor Ronny naming his son Ewura – a name for ladies/girls.

The man of God who doubled as a counselor badly needed a daughter that he prayed to God for such. Luck, however, eluded him. A male child was born onto him. He did everything to get the son to behave as a girl.

The man of God operated Ronny's Dance Factory where people with pressing issues came for counselling. Nonetheless, he himself could not resolve the animosity he had towards Ewura, leading to the solitude life his son lived. Not even Ewura's mother could intervene for peace to reign in their home. Vulnerable Ewura fell in the hands of a 'good Samaritan'? Pastor Ronny's senior pastor. Unknown to them, Bishop Akpanya was gay who forced to have sex with Ewura and that was how the boy called a girl found himself having preference for his fellow men.

I have heard many proponents of gay rights say that those in the trade were born with it. Kobina Ansah's play – though fiction laced with life's facts – tells that some homosexuals are in the trade due to their upbringing. For those who perhaps genuinely have natural inclination for their fellow sex mates, lawyer Moses Foh-Amoaning has an answer for you.

"Caster Semenya we know is a South African female runner. Now, because she is a female but has a dominant hormone of testosterone (male hormones), she's got more power. The International Athletics Association has told her to take the necessary medical steps to reduce the amount of testosterone to normal female level. Does this not tell you that there is a solution to those who said they were born homosexuals?" the lawyer at the forefront of persons kicking against legalization of homosexuality told Stephen Anti on Hot Edition on 3FM last week.

Before God and man – without being a hypocrite – I cannot claim to be a saint. But, aside playing the religiously card, homosexuality does not sit well with me. The truth is, I cannot keep my opinion on this particular issue to myself when others want it [homosexuality] imposed on my country. And again, I cannot keep mute for the fear of being denied visa or branded homophobic.

This does not, however, suggest we must hate homosexuals or attack them. Far from that. I think that rather they need our love and prayers and hopefully things might change for them.

Anyway, if you should push me to sum my lengthy talk in a sentence, I would say that I gladly would be polygamous than sleep with my fellow man. Sex is between a man and a woman!