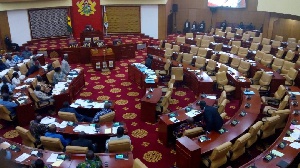 If the conundrum about the Ghana-US purported Military Deal said anything at all, it at least, served to reveal how silly we can be as a nation, diverting our focus from issues that matter more. First of all, let it be said and known to all that it was the NDC, during the shameful John Dramani Mahama Presidency, which made this pact between our country and the USA. It was the same NDC, now in opposition, that voted unanimously to ratify it in the recent vote in Parliament.
Supposing they had a true intent to shoot it down, they would have voted against it because they were the majority on this agenda: NDC 10/NPP 6. Besides, the deal was not for a military base as Ghanaians were erroneously made to understand by the empty barrels of chicanery in the NDC, but for a rather extensive training of both militaries, the Ghanaian and the USA, in various tactical techniques, so what is this clamour all about? This pact has been ongoing for decades, and is never new to our affairs, but because the cheap and lazy braggarts in the NDC know how to incite sedition, we foolishly fall for their unwholesome propaganda. What an insult it is to our ancestry and the nation that we can imbibe senseless talk by fools like Sam George, Okudzeto Ablakwa, Kokoon Anyidoho, Kofi Madams, and such infidels when an ingrate as the Minority leader, Haruna Idrissu, for once spoke the truth, conceding that NDC's Hannah Tetteh drafted the pact and John Dramani Mahama agreed to it. He claimed that he just found out. Pertaining to the latter part about "just finding out", he LIED!

This kind of frivolous enthusiasm people have been exhibiting on social media is uncalled for. You see, even though it has no enslaving effects on us as a sovereign nation, the pact, in my opinion, served to accentuate what I had always thought about duplicitous characters that usually formed the war mongering governments of the United States of America, more perplexedly cemented by the emergence of an authoritarian despot, very undemocratic, erratic, and overly eccentric, President Donald Trump.

That, however, is, also, an indictment on the rotten urchins of the NDC who actually brought this whole farce inextricably into being in the first place. But the rattling mouths of supposed learned people, and others who always have something to say about every single topic, like Kwesi Pratt Jnr., exhibit such nauseating demeanour making it seem as if their submissions were the holy truth, even though they hardly made sense. Alas, they are liars of a treasonable breed!!! This is a situation precisely planned out by the NDC for their own satanic reasons.

That brings us to the social media tsunami of opinions, which actually served to paint a caveat against the divisive attitudes of Journalists and educated illiterates cum idiots. It is a wakeup call to the authorities to stamp their might and bring this phenomenon of impunity to a complete halt. They must definitely arrest the woman with fleshy palms, Hannah Tetteh, for her treasonable affairs against the State. It was well planned out, knowing that they were going to lose the elections in order to put the inevitable Akufo-Addo Presidency in jeopardy. You can read into the current affairs and realise that however you may want to interpret this whole episode, the NDC factor is a major player. The NDC maniacs are the ones who voted for it in unanimity and then signalled their "deadgoat" compatriots to stage a walkout in parliament. Ghana has never benefitted from the NDC, neither in government nor in opposition.

However, relevant concerns have been raised and I agree to a large extent with the idea that allowing the Americans in would not be a good thing at all. But, but, but……

Well, let me tell you, and I repeat, confirm, and assert with an affirmative statement that His Excellency Nana Addo Dankwa Akufo-Addo will never sell Ghana and Ghanaians. He never did when he was way younger, and he is not about to in his young septuagenarian years. It is abominable and unthinkable that those who have trusted this man's judgment for years can now question his motive.
I repeat, His Excellency Nana Addo Dnakwa Akufo-Addo will never abandon GOD and country. Unlike the NDC whose Hanna Tetteh began this whole deal and brought upon Ghanaians a quagmire that will probably saddle our country with an overload of responsibilities and liabilities if we attempt to backtrack, we in the NPP know how to find a way out. Trust Nana Akufo-Addo to keep "Ghana First". After all, if the sovereignty of the nation is not at the center of his focus, he would not have screamed #GhanaBeyondAid to the whole world to listen and heed.

Do not forget the "Kume pr3ko" demo that unshackled the hands of Ghanaians. Do not forget the cancellation of the libel law that freed the furled minds and tongues. Do not forget at all that he had always wanted to educate the Ghanaian child; and he brought to us quality Free education! Do not forget that he averted civil strife in the country when he accepted the rigged results of the EC that denied him victory in 2008 and 2012. Do not forget, do not forget, do not forget!

As far as I and other levelheaded peeps are concerned, our trust in Nana Addo Dankwa Akufo-Addo is never a case of sycophancy, but one based on a factual study of his life, achievements, and practical empathy towards any person, Ghanaian or not! Nana Akufo-Addo will never dabble in issues that have little or no benefit to the nation.

I TRUST NANA AKUFO-ADDO WITH OUR DESTINY…and so did GOD, against all the NDC odds!!!

#WosoKoraaNaMeY3NoMore

By: Fadi Dabbousi