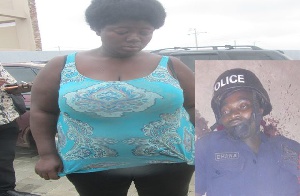 Imagine that, a trained police man picks a gun and begins to kill his family members and himself because he can't get over his problems. Scary isn't it? As human beings we are complex and so are our problems.
The news came as shocking. It baffles all and sundry. For a trained police man to take the lives which he has been trained to protect is a matter that must cause all and sundry to cringe. The deceased may have been nursing this 'solution' for a long time. One of Africa's most prolific writers of blessed memory, Chinua Achebe, once said, 'the thoughts which lead a man to kill himself cannot be merely one night old'.

This situation raises a question about whether the security services have specially trained clinical psychologists and psychiatrists who are responsible for the psychological wellbeing of the men and women who work in these institutions.

In a movie, 'Antwone Fisher', written by Antwone Fisher based on a true life story and directed by Denzel Washington, the main character Antwone Fisher played by Derek Luke, as a sailor in the United States Navy had an anger problem because of past abuses he received as a boy from his foster parents.

Due to his challenge he was always aggressive towards his colleague sailors. His superior officer then recommended that he goes for sessions with the naval psychiatrist, a role played by Denzel Washington. It was during the sessions that his problem was diagnosed and he was able to overcome his challenge.

The sanity of this sailor was crucial to the success of his professional performance and his superiors were swift in identifying the problem and solution.
Yes, the argument may be made, that is the American system and this is Ghana. But it is important to acknowledge that men and women who have been trained to protect lives and properties also have lives to live and their sanity or otherwise have an effect on how professional they do their job.

I followed the story with keen interest on GBC's current affairs programme, Behind The News. In an interview with Dr. Mabel Buadi, a clinical psychologist, infidelity, sex, disagreement over money, jealousy, threat to divorce and the loss of control over the family may be the root cause. The cause of this incident may have been around for a long time.

According to reports his wife says that she noticed some strange behaviour in her husband and she had made reports to the Domestic Violence and Victims Support Unit. It is important to conduct investigations into matters of such nature. But, conducting an investigation into such matters must not be done without giving help to the individual who is in the eye of the storm.

The Ghana Police Service is a big institution and it is important the psychological wellbeing of men and women in this institution must not be taken for granted. There must be a unit solely responsible for counseling men and women in the service. These men and women may have received training, however, it is crucial to understand that the human being is dynamic and as and when situations change we change according to it.

The fact that an individual has received training in protecting lives and properties does not mean that he or she is above the problems that confront him or her. Sometimes, the waiter or waitress also needs to be served.
There may be a lot of men and women in the security services who are going through one psychological problem or the other, but they are supposed to keep their heads down and perform their duties as if all is well. They are supposed to ensure that order is maintained so that all citizens can go about their normal lives without any fear.

This police officer must have struggled with whatever was eating him up. He may have showed signs of depression. He may have confided in a friend. And none of these steps helped him, so he felt that if he took his life and that of those who are closest to him, all will come to an end.

The security agencies in this country must begin to take notice of this unfortunate situation. Security agencies and civilian institutions must consistently have counseling sessions for their men and women. There is the need to have clinical psychologists and psychiatrists in the services and forces of this nation. The sanity of the men and women who have been trained to protect all citizens is crucial to the success of their duties.

Let's not sweep it under the carpet. We may be unfortunate next time – a trained officer may open fire on his fellow officers and civilians.

Writer's e-mail: kw.ameblege@hotmail.com/kwameselom12@gmail.com