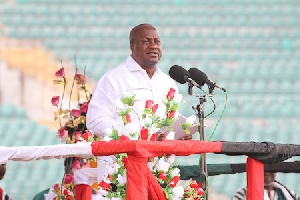 By Martin Selorm Koku Attopley
I have always loved the National Democratic Congress not due to any particular reason but just as many of us will say, we love HE Jerry John Rawlings for being our own. His Charisma, honesty and his incorruptible nature. That's all and nothing else!

Let me use my household as a case study. My great grandfather loved the NDC, my grandfather and grandmother loved the party, my father, mother, uncles and aunties honored the NDC and that was it. We(the children) had no option than to respect their decision and follow suit without any material reason.

In the year 2000 where the race was between John Evans Fiifi Attah Mills and John Agyekum Kufuor, I remember painting my face in the colors of the NDC and galloping like an angry horse on the streets of Ashaiman night market all the way to a place called katamanso. Unfortunately, the NDC lost that election to the NPP and I can still recall with fond memories how my late grandfather and the family cried like babies.

I was so hurt and vowed never to let my people down. I could not wait to become 18 years so I could exercise my franchise and vote for the usual "Ewe Party", the National Democratic Congress. In the year 2012, I was 20 years old and ripened to vote in my country Ghana. I told all my friends to vote for my party and all of them would agree with me on the enormous support I gave the NDC.

The late President, the third John of the John's fraternity, HE John Fiifi Atta Mills won and I still remember the dance my family danced, it was a rehearsed choreography lead by the old man. I laughed and laughed till tears flowed out of my nose! I knew they[the NDC] would do something because they had been in opposition for eight solid years.
These feelings as expressed by my family above has been exactly how all the Voltarians everywhere felt and have always felt about the party. We only voted because we loved the party. Let me take you on a journey of statistics. Do you know "Junior Jesus" ruled for Nineteen years, Attah Mills spent four years as President and John Dramani Mahama, our outgoing President, has spent four years[even though he served the last term of his boss's tenure due to his boss's untimely demise]. When you put all these years together, you would realize that the NDC spent 27 years so far in ruling our beloved country.

They have done very well and all Ghanaians are witnesses to the inexplicable projects and achievements. No one can refute that!

My stay in Keta Senior high school from 2009 to 2013 has taught me a lot about the politics of the Volta. In school, I was actively involved in politics, public speaking, acting and writing. I had myriads of conversations with my class mates, teachers and the food vendors who are absolutely Ewes and diehard surrogates of the NDC. No one could change their minds.

Forgive me to say, not even God could change their minds about the NDC. In Keta Senior High school, popularly known as Dzolali, we had two teachers who most of us referred to as "The Twins", they loved the NDC with every fibre in their bodies. Should you cut them with a blade, it was possible you would see NDC colors mixed thoroughly with their blood. We always spoke at length and they always influenced us greatly with their NDC ideologies. They always stood in to defend the NDC even when it was clear that the party was at fault at one thing or the other. They never saw any wrong about the party and its members.

May I confess here that in 2013, I began thinking deeply about the Volta. I felt we were not doing the right thing at all. The NDC took us as their "world bank, their storage room, their Susu box" and could come at anytime to withdraw the money and deject us at the end. I asked myself, so for all these years, what gargantuan project have they implemented in the Volta region? What development can we boast of? They built major roads, major markets, big hospitals and the like in other regions but neglect the Volta? It really dawned on me and as a young leader, I felt it wasn't right at all.
I was happy about the airport they proposed to be built in Ho and so glad were others who heard it too. We were waiting anxiously! But it was taking so long a time to come. It was just a promise and that's all! Whenever I asked the staunch supporters of the NDC to tell me about the major developments made by the NDC in the Volta, they only put up a long face saying nothing really encouraging. I changed my mindset and made a decision for change! After all, we were not under a curse to always vote for the party. Even if it were a curse, I was eager to break away from such a generational curse after all.

I have never been happy in my entire life like this until Wednesday, Thursday and Friday respectively when I saw the votes from the Volta propounding in favor of the NPP. People wanted change! They have had it up to their neck. The lies, the promises, the neglect, the shame, the joblessness of my people was just too much to take and they wanted something new. Most of them decided not to betray the love and pledge for the NDC so they refused to go out and vote whereas others had the courage and made it happen.

I know many people from that side of Ghana loathed the President Elect, Nana Addo Dankwa Akufo-Addo and not the party[ NPP] per se but they disliked him because there were rumors about he planning to drive out all the Volta folks from Ghana. How on earth could this be? No one can ever do that, never ever!

The President Elect has waited for eighteen good years[1998-2016] to become President, it hasn't been an easy feat at all. I believe that he has learnt a lot and would not be a "foolish" man to mess up his destiny. I believe strongly that he will serve this country diligently and leave a lasting legacy for the country and the world over. If I were him, I will not leave any stone, be it a stumbling block or a stepping stone unturned. I would work till my last breath and repose that trust in the hearts of many at the end of my tenure of office. We have come far as a country. Our people need hope, justice, peace, trust and all the morals and ethics needed in the society.

To my Voltarians, I want to say stop shedding tears for the NDC even though I know it's painful. Let them rather shed the tears of the neglect and pain they've caused us in the years. They should go and think about it and come back for forgiveness. This is an invincible scar that would linger on their minds and be indelible on their bodies and never ever again will they forget this.
To our respectable out going President we love you so much and you know it. We could die for you at any time because you were a high spirited man, a selfless leader and an intelligent personality. The only quandary was that you had too many "babies with sharp teeth" as your cohorts who you could have shown the exit when they misbehaved but you never did.

To the President Elect of the Republic of Ghana, His Excellency Nana Addo Dankwa Akufo-Addo, you have indeed fought a good fight. Through the thunder, the lightening and the fall of rains you have stood with an unbroken resolve and forever we would learn lessons of never giving up on our dreams no matter the challenge. Let this victory not put you above the people, be a servant and honor the goodwill of the people. You said, "the battle is the lords" and you won. May you also seek the face of the Lord to see you through a successful tenure of office. Don't be complacent!

To all the members of Parliament on the ticket of the New Patriotic Party, I won't say much but may you take your greetings from the "fallen stars of the NDC". Never take your electorates for a ransom!

May I end here by proposing one of my favorite anonymous African proverb that says, "He who repeats the mistakes of his fathers, suffers a grievous punishment than they did". We have hoped for the change and we want to see it manifest. No excuses and no disappointments!!

Let he who has ears, listen to the words I speak!
The Writer is Martin Selorm Koku Attopley, a student, an author and a public speaker.

You can reach him on newmanleadershipfound22@gmail.com

©copyright 2016