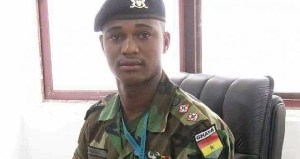 When I die what will be the reaction of the world? Will they be in a shock or be expectant like waiting for a cloudy weather to give it rains. What will be the first comment that will come out of the mouth of people or the thought that will linger in the minds of the world?
What will happen when I die? Will my body be seen like that of Dr. Kwame Nkrumah, drown like Castro, burned, stoned and scorned like you Major Maxwell Adam Mahama or vanish with an aeroplane remains like Dr Myles Munroe. How at all will I leave this earth?

How will my funeral be like? It is going to be a gathering of great men and women sandwiched between my prominent families or is going to be a gathering of drunkards whose happiness is going to be the number of bottles that will be available there.

How at all will I be buried? Is it going to be by the church, state or by my local community? Am I going to be put in a thousand dollar casket or a wooden structure called a coffin? Ooooh how at all am I going to leave this earth?

I'm also thinking about what will be said about me. How will my tribute going to be read? It is going to be read by my wife, sister, children, nieces or nephews etc. And even that what will be said? Will I be counted as one of the many men that lived or the very few gallant Men who served their generation with pride and integrity?

What at all will be said by my Family, the Baptist fraternity, the Amanfo? family, RENARSA, GRASAG and my friends?

Major Maxwell Adam Mahama, on that faithful Friday day all the questions bordering you may have been addressed by your fate. You know yours now which is unlike the billions of us who are living now.
Your death was a painful one but your going has been a great one. I don't know what will have happened if you had died in any other way or even died in your good old age. I'm wondering how your works would have been celebrated. Still thinking about it though.

Major, on your burial day all the national and local televisions, were there. Instagram was all about you and Facebook was worse. In summary social media was flooded with words and pictures of you. All radio stations were discussing you and in all none but good words were said.

All the great men of the land were there too including the Vice President of the Republic of Ghana. The former presidents, the strong Mr. John Dramani Mahama and not too strong Mr. John Agyekum Kuffour showed their honourable self at your funeral. The indefatigable Asiedu Nketiah and Mr. Ivor Greensheet.

The clergy was also duly represented including your own Bishop Dag. Ahaaa Major, lest I forget your wife said wonderful things about you so did your mother but your dad…hmmmm, the pain could not allow him to continue.

Gallant soldier, let me hasten to add that all the state apparatus were there to commemorate your untimely death. Though this may not matter to you but to us living it matters a lot.

Major, your death has been a painful one but your burial an enviable one. You have really died a great man and all Ghanaians are proud of you.
REST IN PEACE MAJOR

WRITTEN BY KWABENA NUAMAH

FORMER PRO

GRASAG, KNUST