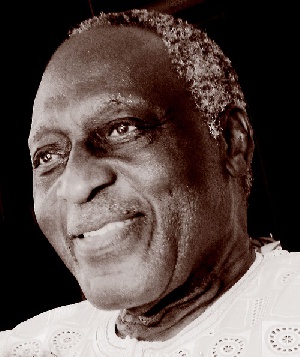 Mawu ga sogbolisa!
Mawu ga kitikata!

Adanu wor tor

Agbe ngor tsu

Ve tsu.

nku ye kpor na, eto ye sena.

ade ye gblorna

Wey wor ashi, eye ashi wor na

wey wor afor, eye afor ye dena.
Togbui Tsali fe mawu

Akplormada fe mawu.

Mia togbui vi do agoo na mi.

Agooo agooo agooo.

A strong wind has blown.

A dark cloud has formed.

There are thunder claps, voices in the wind with sorrow we sing.

The sun weeps today at night
and the tides rage on high.

the great iroko tree in the forest,

that mighty baobab, we the children of Anlo.

Anlo is clouded in scarlet,

there are tears in our eyes, pain in the heart like an arrow.

Yes an arrow is lost, our bow is broken NYIDEVU KOFI, oh! the great cantor of words, Awoonor your foot prints are firm.

Ayevu's have seen it nations confirm it.

From hogbe to Adza, Adza to Dogbo, dogbo to Nortse.
The dust will unfold your prints, yes your foot print are firm.

Oh! a great Cantor of words, the key bearer,

great kotsis, Kofi awoonor the great Cantor of words.

You lighted as a path, the zagunor's shall mention it.

A branch has broken off yet, it will bud again.

Kofi nyidevu Awoonor your branch will bud again.

Anlo is mourning, her women are wailing,

her son is lost, in a battle he longed worn.
The baobab that created shades.

Who would tell his-stories? and who will write his poems.

This earth my brother a home to joy and sorrow.

Your words are springs to water gardens.

Your mother and father awaits you.

Our ancestors will keep you.

The azagunor's drum baba nawo,

The henor's sing hede nyuie.