Trust me, there is no serious country on planet earth where Mahama can stage a presidential comeback (VIII)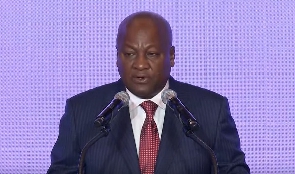 Interestingly, during the anti-corruption summit in May 2016 in London, observers witnessed how f Mahama appeared extremely nervous when he was asked harmlessly by a BBC reporter whether he has been offered bribe before.
The BBC reporter's concise question apparently preceded the Armajaro reprieve, the alleged furtive Ford Expedition Vehicle gift from the Burkinabe contractor, Djibril Kanazoe, and the shameful Airbus bribery and corruption scandal which former President Mahama was allegedly cited in the international thematic report.

"BBC: Mr. President, have you been offered a bribe before?"

"Mr. Mahama: You mean as President?"

"BBC: As John Dramani Mahama"

"Mr. Mahama: As a human being?"
"BBC: As a person"

"Mr. Mahama: Any human being in the world would have encountered corruption in one way or the other, either being offered a bribe or bribe being demanded from you." What you need to do is to put yourself in a position that… (, the BBC cuts in)"

"BBC: Mr. President, did you take it?"

"Mr. Mahama: No, I haven't taken a bribe."

Prior to the 2020 general elections, Mahama had this to say when he was asked about the 2016 BBC bribe question by an Accra based Class FM host: "it was a question about: 'Have you taken a bribe before?' And it caught me off guard," adding "I will tell you that, but I answered it."
"You know, the thing about that interview was that question was a very 'discourteous' one."

He offered an explanation: "it was 'discourteous' because the western media has created an impression, of course, from some solid experiences – I mean the period of Mobutu Sese Seko and all that characterizes every African leader as corrupt – and so one won't ask a western leader that kind of question because it is 'discourteous (Daily Guide Africa, 20200)."

If we take a stroll down memory lane, sometime in October 2010, the British media brought up a chilling report about how the then Vice President John Dramani Mahama was allegedly lobbied by a British Cabinet Minister to get a reprieve for the ban imposed on Armajaro Holdings, one of the cocoa buying companies who were found guilty for smuggling the commodity out of Ghana.

Armajaro Company was banned together with a few other companies, when the award winning investigative journalist, Anas Aremeyaw Anas exposed the smuggling of bags of cocoa into neighbouring Cote d'Ivoire.

Shockingly, however, the British media reported that subsequent to the meeting between the then vice president, John Dramani Mahama and the British Cabinet Minister, Armajaro Company was given a needless reprieve and then started its operations.
The fact of the matter is that Ghana's transgressed and incompliant politicians often get away with murder.

A typical example of alleged bribery allegation hanging on the neck of former President Mahama is the furtive gift of a brand new Ford Expedition vehicle worth over $100,000 from the Burkinabe Contractor, Djibril Kanazoe.

According to the investigative journalist, Manasseh, the Burkinabe Contractor Djibril Kanazoe had over the years been bidding for contracts in the country. However, he was not successful until a middleman led him to meet then Vice President Mahama.

Subsequent to meeting the then Vice President Mahama, Kanazoe was allegedly handpicked to build the $650,000 Ghana Embassy fence wall in Burkina Faso.

The account is given, that In September 2014, when officials of the Bank of Ghana met the Public Accounts Committee of Ghana Parliament (PAC), it came to light that an amount of $656, 246.48 had been spent on the construction of a fence wall over a parcel of land belonging to the Ghana Embassy in Burkina Faso.
Apparently, PAC requested the Bank of Ghana to look into what it referred to as: "the outrageous" cost of the project.

However, it came to light that the procurement process was breached to the advantage of President Mahama's Burkinabe friend.

Amazingly, during an interview with Manasseh, Djibril Kanazoe admitted that he did not put in a bid for the contract, however, the Ghana Embassy in Ouagadougou wrote to his company to request price quotations for the project. He, however, forwarded the necessary quotes and was selected.

The report concludes that the Burkinabe contractor eventually gave President Mahama a handsome gift of a brand new Ford Expedition vehicle in 2012, the same year his company was selected, again through sole-sourcing, to execute more projects (See: 'Burkinabe Contractor offers controversial gift to President Mahama' ; myjoyonline.com, 15/06/2015).

Let's face it, the president of a nation is a serious position and as such it requires someone with an impeccable integrity and unmatched commitment, therefore, it is quite worrying if serious bribery and corruption allegations are hanging on the neck of an individual who is seeking to return to the presidency and unwilling to disprove such allegations.