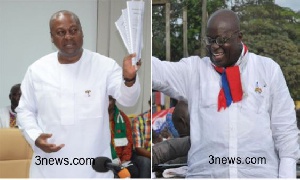 Election 2016 is perhaps the most talked about election Ghana has experienced, and the most interesting.
This is because the two dominant parties have appealing candidates vying for the presidential slot.

The first candidate is the incumbent president John Dramani Mahama (NDC) who is seeking re-election after his first term in office (2012 -2016) as president, having served as vice president from 2008 to 2012. The second candidate is Nana Addo Dankwa Akufo-Addo for the opposition NPP, a three-time nominee for the presidential ticket for the 2008, 2012 and 2016 elections.

The uncertainty of the electoral outcome also makes this election very much interesting as it is keenly contested. This election will be either a third consecutive win for the ruling NDC or loss for Mahama OR a third consecutive loss for the NPP or win for Nana Addo.

Both the NDC and NPP are viable forces in this election. They have experienced both victory and defeat. Thus, they know the rules of the game. But how will their victories be managed and what will be their reaction if either one loses?

For one thing, electoral victories have been characterized by provocations that have not gone well with losers. Indeed there have been instances where celebrations of victory have seen winners marching to the houses of losers to intimidate them and destroy their properties.

Ahead of this election, both winners and losers must endeavour to conduct themselves in a manner that will not instigate violence.
The winner of this election must operate within the confines of the Constitution. Winners must be conscious of the loser's potential at the next election.

The loser, on the other hand, must build on its electoral base to capture power. Losers must re-organize themselves and draw strengths from their experiences.

A favourable environment for all political actors must be encouraged. All impediments hindering a peaceful transition must be removed. Institutions of governance such as the Electoral Commission, National Council for Civic Education, Commission on Human Rights and Administrative Justice must ensure that a level playing field is created for all political actors to ensure a peaceful election.

Both winners and losers must own the electoral process. I encourage all and sundry to go out on the 7th of December, 2016 and vote massively for the candidate of their choice.

Indeed, Ghana needs a peaceful transition of power to set the stage for electoral and democratic progress.