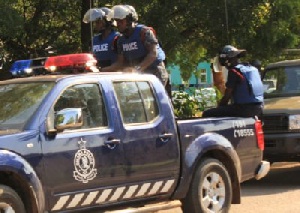 A great leader of Soviet Union, Vladimir Lenin, reportedly asserted that crime was a product of social excess. What are some of the social excesses in Ghana?
Shielding suspected criminals from the police and, over-exaggeration of human rights [are we not being more Catholic than the Pope?]. Before Christmas last year, my car broke down in an unfamiliar location within Minneapolis, Minnesota. The weather too was very snowy. No sooner had the Car broken down than someone calling police on me!

The police officer came there to find out what was happening almost 10 minutes after the car was stuck in the above location my GPS had thrown me into. This happened because I was a stranger in the neighbourhood. At the transport stations at Circle, Kaneshie and Kejetia, how many of us have bothered to call police on individuals moving helter-skelter for days? I am not unaware of the freedom of movement in our constitution.

An erstwhile US Supreme Court Judge, Oliver Wendel Holmes, Jr observed that "If there is any principle of the Constitution that more imperatively calls for attachment than any other it is the principle of free thought, not free thought for those who agree with us but freedom for the thought that we hate."

Indeed, the Ghanaian thought of remaining indifferent spectators to suspected criminal activities must be loathed and condemned by all and sundry.A successful crime combat requires a healthy synergy between the public and the police. The police alone cannot fight crime in Ghana!

African culture and behaviour appear to be sphinxlike [difficult to understand] and paradoxical [self-contradictory] wherein the living is damned and, the dead glorified! For example, the sick go to the hospital with a taxi and the dead go to necropolis [cemetery] with an ambulance.

Police personnel who are supposed to protect life and property hover between hope and apprehension relative to their living conditions. Single rooms are divided with a plywood for adult police personnel, especially those in the junior ranks without recourse to their family needs.
Some of them are packed in the police barracks (Station) as if they live at the witch camp [as in northern Ghana]. Most police personnel in the field work without bulletproof vests. Yet, some of their superior officers wear a bulletproof vest in their air-conditioned offices. Let us have our priorities right. Governments and the police top hierarchy must stop pretending to be caring for security needs of Ghanaians.

Only heaven knows why we keep on saluting the ghost! "The President through the Police Council has instructed that Chief Inspector Ashilevi is posthumously promoted to the rank of Assistant Superintendent of police, the Vice President revealed" (Source: Ghanaweb.com, Sunday, March 4, 2018). What will Chief Inspector Ashilevi be doing with the police rank of ASP in the life-here-after? A bullet-proof vest could have saved him from an untimely death! Far from making an imbecilic and inane remark if not metaphysical nonsense, why can't our leaders allow the ghost to honour the ghost in their own realm? This is the world we have. Let us stop glorifying the dead and be pragmatic enough to nip our security challenges in the bud.

I think preventing teenage pregnancy, streetism, political party hooliganism, selective justice, nepotism and needless protocols during police recruitment, bribery and corruption are entirely indistinguishable from arresting the phenomenological aspect of crime in Ghana. Fighting crime is a collective responsibility of all.

For example, what measure do we have in place to deal with men who refuse responsibility of pregnancy? Who brings up those kids? The government and local governments must begin to think of child support programs. Mothers and fathers who fail to care for their kids must be arrested.

Besides, Governments must equally eschew some of the populists' interventions that divert funds meant for other sectors of the country/economy. President J. A. Kufour brilliantly introduced the National Health Insurance Scheme [NHIS] in which even patients are expected to pay a premium. Why can't we allow healthy parents who can pay for their kids High School education do so? Why can't we expand the scholarship scheme to help the brilliant but needy kids? The government must task the selfish and narcissistic church leaders to build schools and hospitals.

Government alone cannot build health facilities and schools? It is unfair for the Catholic, Methodist, Presbyterian and SDA churches to continue to bless the country with schools and hospitals while others extort money from the poor to enrich themselves. Some have bodyguards, driving Rolls Royce, Range Rovers and other luxury cars while entreating their followers to come for prayers for government jobs.
History bears unfavourable testimony to the growing influence of the church in a country. Reading Niccolo Machiavelli's political treaties, "The Prince" revealed to me the growing influence of the papacy which became inimical to the sovereignty of the State. When one-man churches are either heavily taxed or tasked to build schools and hospitals, the government funds could be freed to provide for the safety needs of the citizens.

Thus, politicians must stop suffocating themselves with unrealistic interventions and focus on what is reasonably doable! Providing bulletproof vests for the police is plausibly achievable!

Nevertheless, Some Ghana Police personnel cannot completely be innocent of the howls of outrage on them regarding rising cases of armed robbery. I was startled to read that "A Ghanaian police unit working with the U.N. peacekeeping mission in South Sudan has been recalled Saturday, as allegations of sexual abuse against them are being investigated" (Source: MYJOYONLINE.COM, February 24, 2018).

UN and other global humanitarian communities could be plunged into disarray with such unfortunate conducts. If the allegations are found to be true, well-meaning Ghanaians will without a scintilla of sympathy, begin to see their police and quiver with indignation, with dismay not bereft of trembling, aghast at the moral and systemic insolvency that have engulfed police service and thereby culminating in such unthinkable embarrassment to human dignity and decency.

If some police officers cannot empathize with widows, and women likely to suffer from post-traumatic stress disorder (PTSD) under their protection and, sexually abuse them, it demonstrates crass indiscipline hinging on our society.

The Inspector General of Police[IGP] must crack the whips and ruthlessly enforce the ethical and legal ramifications surrounding such indecency to the letter. Our presidents must also avoid extending the retirement age of police bosses. Extending IGP's retirement age could lead to envy, which could derail an effective operation of the service.
Per the social comparison theory, individuals determine their own social and personal worth based on how they compare themselves with others. Some individuals are endowed with social skills and could control their urges to keep envy and social comparison undertone, even so, human real feelings may appear in a subliminal way.

This means that extension of IGP's contract is not only discriminatory to the other police and public officers who retired at age 60, but risks breeding saboteurs within the service. This could lead to ineffectiveness within the police corps.

Besides, no IGP must go with a change of government. We must amend our constitution to embrace the parliamentary system of government rather than the presidential system as under the second Republican Constitution when Dr. Busia became the head of government (Prime Minister) and the father of the current President, Justice Akufo-Addo was appointed the ceremonial head of State.

The power to appoint IGP and Chief Justice [CJ}could be given to the Head of State not head of government. This will somewhat regulate the political manipulations of the police and related sensitive state institutions.

The police must think of enlisting more brainy people [I am not insinuating that the current police personnel are brainless]andstop the antiquated approach of recruiting people by virtue, of their heights!

Recruiting police personnel in accordance with their heights is to some extent, a violation of the article 17 clauses two and three of 1992 constitution. "(2) A person shall not be discriminated against on grounds of gender, race, colour, ethnic origin, religion, creed or social or economic status.
(3) For the purpose of this article, "discriminate,, means to give different treatment to different persons attributable only or mainly to their respective descriptions by race, place of origin, political opinions, colour, gender, occupation, religion, or creed, whereby persons of one description are subjected to disabilities or restrictions to which persons of another description are not made subject or are granted privileges or advantages which are not granted to persons of another description."

Although the constitution did not specifically mention height, the police method of recruiting by height is highly discriminatory and unfortunate! Are there police officers in South and North Korea? I think the police administration must be sued for such a discriminatory approach to some vertically challenged citizens! We are all complicit in the fight against crime, not only the police!

God Bless Our Homeland Ghana!!