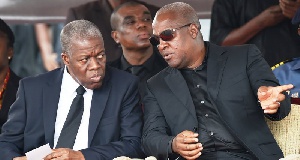 By: Kwame Okoampa-Ahoofe, Jr., Ph.D.
There is an article circulating on several Ghanaian media websites, claiming that the decision to inflate the cost of the $ 14 million mansion earmarked for the Vice-President of Ghana, started by the Mahama-led government of the National Democratic Congress (NDC), was actually made by the former President's National Security Advisor, Mr. Baba Kamara (See "Baba Kamara Inflated Vice-President's Bungalow Cost by $ 8 Million – Ex-NDC MP" Classfmonline.com / Ghanaweb.com 3/14/17). This allegation is reported to have been made by Mr. Ibrahim Dey, the former NDC-MP for Salaga-South, in the Northern Region, where both the accuser and the alleged criminal culprit are known to be natives.

This case is especially intriguing, if also because it highlights the grossly incompetent dynamics of the governance mode and structure of the Mahama regime. Ordinarily, one would have hoped that a project of such monumental and institutional significance to the nation would have been brought before Parliament for a robust and transparent debate before any decision, one way or another, would have been taken. But in this case, we are told that it was party bigwigs, including former Vice-President Kwesi Bekoe Amissah-Arthur, who took the decision. For an elected official in a constitutionally democratic culture, this is nothing short of bizarre and extremely strange.

It has also been alleged by some disgruntled elements of the former President's Gonja home enclave belonging to the now-main opposition National Democratic Congress, that it was ex-Vice-President Amissah-Arthur who single-mindedly determined the cost of the legislatively unauthorized vice-presidential mansion to be worth $ 3.5 million. We are, however, not told how the former Governor of the Bank of Ghana arrived at this figure. However, we are further told that the aforesaid figure of $ 3.5 million was increased by $ 1.5 million "on the blind side" of Mr. Amissah-Arthur. Precisely what the preceding quote means is anybody's good guess.

We must also promptly highlight the fact that it was the figure of $ 3.5 million that Mr. Johnson Asiedu-Nketia, the General-Secretary of the National Democratic Congress, gave in refutation to Vice-President Mahamudu Bawumia's revelation of the humongous cost of the project. And so how the initial cost of the project ended up at $ 5 million needs explaining. Precisely who padded or authorized the inflation of the originally projected cost of the vice-presidential mansion from $ 3.5 million to $ 5 million is not clear. However, we are told by Mr. Ibrahim Dey, who faults Mr. Baba Kamara, the former Mahama National Security Advisor, for causing his defeat in the Salaga-South Constituency, that it was Mr. Kamara who single-handedly inflated the cost of the project to some $ 14 million, by inflating the projected cost of the project by at least $ 8 million.
The accuser also says that Mr. Kamara then deducted $ 6 million from the now inflated price tag of some $ 14 million and informed the contractor working on the project that the extra cost would be borne or footed by the Office of the National Security Advisor. This criminally messy way of doing things would be funny, if it did not involve the hard-earned wherewithal of the Ghanaian taxpayer. First of all, as already extensively written about by this columnist and many other writers and commentators as well, there already exists an officially earmarked bungalow for the Vice-President of Ghana, whoever that personality happens to be. Indeed, the first person to have occupied and vacated this bungalow was the late Vice-President Aliu Mahama, who resided in that bungalow for some 8 years. And then Vice-President John Mahama moved into the same bungalow and flatly refused to move out and occupy the Jubilee-Flagstaff House, when he was named substantive President of Ghana in the wake of the passing of President John Evans Atta-Mills.

And so properly speaking, this historically unprecedented criminal racket is squarely about the gross political irresponsibility of former President Mahama. And, needless to say, somebody ought to dearly pay for this criminally savage attempt to take the Ghanaian taxpayer for a ride. And I bet you know who that "somebody" is.

By: Kwame Okoampa-Ahoofe, Jr., Ph.D. English Department, SUNY-Nassau Garden City, New York E-mail: okoampaahoofe@optimum.net *Visit my blog at: kwameokoampaahoofe.wordpress.com Ghanaffairs