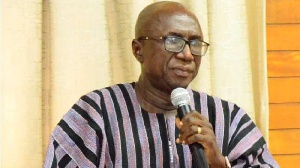 Interior Minister, Amborsse Dery, has told Parliament that the security agencies in Ghana are working hard to find the missing Takoradi girls.
The whereabouts of the three missing Takoradi girls, Ruthlove Quayson, Priscilla Blessing Bentum and Priscilla Koranchie who were kidnapped between August and December 2018 is yet to be known several months after the issue gained national prominence.

Two suspects, both Nigerians are currently facing trial for their alleged involvement in the crime.

Mr Dery said to the legislature on Tuesday, 30 July 2019 that the matter is being handled by a hardworking multi-ministerial team.

"We want this matter resolved and we are working to make sure this matter is resolved. The matter has not been abandoned and we are working together," he said.

He added: "To the parents, I want to assure them that we're with them in this time of trauma and that they should be rest assured that we're not abandoning them.
"This matter is a multi-ministerial matter.

"I'm assuring that we're not resting on our oars. This is a multi-ministerial matter and we'll leave no stone unturned."