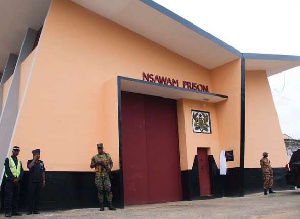 What do we want for our prisoners, is it rehabilitation or incarceration?
This is one most debated and compelling question in every prison system—even in the western countries and, it's often a riddle that remains unanswered. Due to our culture and society's stance on retribution, the Ghanaian prison system is more or less designed to put more emphasis on incarceration instead of rehabilitation. But, how long can we do that?

There is a need to change things around to reflect on the new prison management and administration procedures.

Due to that, we have to go back to 'Mother Nature'. Incorporating some aspects of nature in the rehabilitation or restitution twist in our penal code can balance things and perhaps make the system more responsive to the nation's needs is a right thing to do because the inmates will one day join the main stream economy.

It's another way of saying; let's get back to Mother Nature, to balance our rehabilitation process in our prison system.

Ms Sneed, a founder and director of the garden project, a prison program in California, USA— believes that working with the land breaks the circle of crime. She also believes that gardening or farming reduces recidivism rate (or the tendency to go back to prison) because prisoners or inmates change their attitudes and behaviours, when they're both outside the prison walls and inside.
You might be tempted to ask: "How could cultivate the land through gardening changes the prisoners' outlook on life outside and inside the prison walls?"Well, it's believed that cultivating the land, planting, harvesting and maintaining gardens require nurturing, dedication, patience and caring. These are all perquisites for sound social interactions and social tools that people need in order to survive in a real world.

Now, with the planting for Food initiative which the government is proposing, it will be a good idea to introduce that concept vigorously in our prison system to produce food for the nation and the Ghanaian prison system. We also can incorporate their vocational education with the farming, gardening or whatever we want to call it because we have nothing to lose but time.

The vegetables or produce from the proposed gardens or farms could be a source of fresh organic food for the inmates, civilian population and the officers who patronise the prison's cafeteria.

It will be a win, win situation for the inmates, nation and the health –conscious employees of Ghana prisons system.

Yes, I know we will come up with thousands of excuses to justify our lack of creativity. But, we shouldn't forget that an idle man is an angry man. When the inmates are busy attending to their farms and gardens they will learn to appreciate life more and maybe(just maybe) fight less.
Imagine (just imagine) the positive effects of an inmate spending several hours working on his garden every day and raising nice vegetables. He can either sell some of these fresh veggies to prepare for his life outside the prison walls or give some out to the officers and cafeteria workers for general consumption.

To make it very attractive endeavour, we can perhaps top it off with giving the participants (inmates) time credit towards their parole assessment. This will be enormous and infectious initiative beyond measured. Let's not underestimate the power of nature and the willingness of the inmates' ability to engage in activities that will boost their self-esteem and inner satisfaction.

Is this proposal going to solve all the problems in the prison system of Ghana? Nope, I'm not that naive! But, it will be a step in the right direction. Farming has its unique way of giving the farmer some kind of emotional stability, self-esteem, self-reliance and self-assurance that cannot be found in other trades or professions.

It's time to reduce the recidivism rate in our prison system and feed the nation as well.

I hope someone is listening.