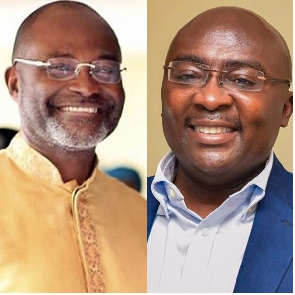 The proud, fearless and no-nonsense son of Kumawu/Asiampa soil who calls a spade a spade but not a digging farm implement, has indeed found himself in a dilemma. He is inextricably wedged between a rock and a hard surface, similarly as salad gets wedged between two slices of bread.
Both the NPP flag bearer aspirants, Kennedy Agyapong and the Vice President, Dr. Alhaji Mahamudu Bawumia, are credible enough to become the future president of Ghana come general elections 2024. They have each in their individual disciplines, politically, strategic economic advancement of Ghana through innovations and creation of jobs, excelled themselves hence overwhelmingly qualify to rule Ghana in the best collective interests of the citizens.

Both being good as preferred candidates, has made it difficult for me when it comes to choosing one over the other hence the said dilemma I find myself in.

Nevertheless, being a deep thinker, putting many things on the scale to help me decide which way I should go, thus, the candidate I should throw my fullest weight behind, I have resolutely settled on that younger brother of mine from Assin Dompim, Kennedy Agyapong (Hon.). Don't get me wrong, both Kennedy and Dr. Bawumia are my younger brothers in age and by fellowship as Ghanaians.

His temperament, insults and other negativities he is known of pale to nothing or into insignificance when compared to the great things that Kennedy can do for Ghana in her current and or, near-perpetual distressful mode.

Do we dwell on what I classify as his bantering negativities to write him off, tagging him as a non-presidential material? No and no!

His honesty, pragmatism, dedication to be of service to his people and nation, farsightedness, belief in meritocracy and his sound practical economic policies should be the basis for evaluating his capabilities and abilities as to whether or not, he is a presidential material able to successfully govern the nation when elected president.
Finding both mentioned candidates equally more credible to be president of Ghana, I finally opted for Kennedy Agyapong (Hon.). My decision has principally been based on the fact "lack of law enforcement" is of singular adverse impact on the social, political and economic life of Ghana.

It has become an albatross hanging loosely but dreadfully around the neck of Ghana like a deadly cobra (snake) wrapped itself around its prey.

Until that albatross is successfully removed, Ghana will continue to suffocate, similarly as not until a poisonous snake has its head cut off, it will remain deadly to give its prey and humans a fright.

Kennedy is the guy with the readily wherewithal to liberate Ghana from the powerful suffocating effects of "lack of enforcement of the laws of the land". Until the laws of the land are strictly enforced and obeyed by all and sundry, Ghana will continue to bleed to death.

Do you expect Ghana to continually dance in stagnation or wobble backwards in her aspirations to attain socio-economic improvements for the nation and the people? No and no! You want Ghana to make impressive strides to make life easy and better for her citizens. If that is your honest dream, then let us vote for a candidate that can bring that about by seriously stopping any factors militating against the attainment of that noble dream.

Those speaking ill of Kennedy should bear in mind that "There is a time for everything, and a season for every activity under the heavens", etc. - Ecclesiastes 3:1-8.
The season in which Ghana finds herself now, calls for the leadership of Kennedy Agyapong as president of Ghana come January 2025. He will pave the way for Dr. Bawumia to come and serve his country in the capacity of president when he, Kennedy, leaves.

As John the Baptist came before Jesus Christ, so must Kennedy come before Dr. Bawumia to impale that beast called "lawlessness" on the sharpened iron rods of strict law enforcement, to make it easier for the future presidency of Dr. Bawumia.

Can I now be liberated from my dilemma? Yes, once I have cleared the air!

I still look forward to seeing a team of Kennedy Agyapong, Dr. Alhaji Mahamudu Bawumia, Dr. Kwabena Duffour and IGP Dr. George Akuffo-Dampare rule Ghana when President Nana Akufo-Addo exits the presidency on 7 January 2025.