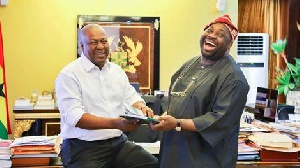 Fellow Africans, let me start by thanking hundreds, if not thousands, of all those who felicitated with me last weekend on the honorary Doctorate degree bestowed on me by one of Ghana's most prestigious institutions, the University of Professional Studies Accra (UPSA).
UPSA started out as a privately owned professional institute named the Institute of Professional Studies in 1965. In 1979, it was taken over by the Government of Ghana and in 1999 it became a tertiary institution by virtue of the Institute of Professional Studies Act 1999 (Act 566). The mandate of the newly revamped Institute was to offer professional programmes in the disciplines of Accountancy and Management leading to the award of degrees, diplomas and certificates.

The Institute was affiliated to the University of Ghana in so far as the award of degrees, diplomas and certificates was concerned. However, the baby graduated to adulthood and the institution became a full-fledged University on 1st September 2008 when it was granted a Presidential Charter with authority to award its own degrees, diplomas and certificates.

The Institute metamorphosed into a University in status and name when the University of Professional Studies Act 2012 (Act 850) received Presidential assent on 31 July 2012. The Institute was renamed the University of Professional Studies, Accra.

In the history of the University only three people had been honoured with honorary doctorate degrees and this was in 2013. It was thus a special and privilege and honour for the University to singularly consider me as the next most worthy recipient of its honorary degree and this was made even more exceptional by the fact that I was the only recipient and the first non-Ghanaian.

In effect, what this particular recognition accorded me was awesome and apparently took into account the myriad of ways in which I have become an adopted son of Ghana. My close relationship with the Republic of Ghana spans more than two decades. In those twenty one years, many have come to see and accept me as an Associate Ghanaian primarily because of the way in which I have acted as the Chief Promoter of tourism and investment in the country.

Through the extensive networks of Ovation International, we've been able to attract countless visitors and investors to the gentle giant of Africa. Before our very eyes, Ghana has repositioned herself as a destination of choice in Africa. Furthermore, I have done a great deal to repair the rivalry between Ghana and Nigeria and instead created a relationship of brotherhood borne out of genuine affection, goodwill and determination to jointly succeed. Whenever Nigerians have needed a voice in Ghana I have immediately hearkened to the call and ensured that our position was clearly stated especially when attempts were made with smearing us by stereotyping us. I also was in the vanguard of promoting and encouraging the influx of Nigerian Banks into Ghana and now most Nigerian banks are represented there. In addition Nigerians are establishing indigenous Ghanaian banks all because of our attempts to create conducive atmosphere for their investment.
As a friend told me, whatever good you do may seem unnoticed but someone, somewhere is watching and recording and someday the reward would come when you least expect. Such was the situation I found myself in last week as honour came from the most unlikely and unexpected corner. I was pleasantly surprised to receive a mail from the Council of the University of Professional Studies a few weeks ago informing me that the Council had resolved to confer me with the Honorary Doctorate Degree of Doctor of Humane Letters.

The institution had obviously studied my resume and found it worthy of being greatly honoured. What was more, no condition whatsoever was attached to the award of the honorary degree. No one asked me to make donations or pay for this and that. The University wanted to appreciate "a pan African ambassador and role model" in its own inimitable way. The University was of the view that I had done a lot to showcase the very best of Africa generally and Ghana in particular and that it was necessary to give honour to whom it is due in his lifetime. I cherish the kind and gracious gesture of the Governing Council of UPSA and they have created a committed, fervent and ardent adopted Alumnus.

In addition, I believe the University wanted to tap into the super brand that we had created beyond the shores of Ghana and by so doing extend the same international exposure to this outstanding Ghanaian institution which has done so much for the creation of a professional elite in Ghana. This expectation of the University has clearly worked. It is unbelievable how the University's name exploded and trended for days after the convocation ceremony that heralded my honorary degree. It was so incredible. I thank God immensely for ensuring that UPSA received accolades for its decision. I sincerely relish what the University did for me.

As the icing on the cake I was thrilled and honoured when the President of Ghana, John Dramani Mahama informed me that he would be attending the convocation ceremony as a mark of honour and a demonstration of his respect for me.

What then can I say about President John Dramani Mahama? I'm not sure there are enough adjectives in the lexicon to describe this perfect gentleman. An invitation had been extended to him to attend the convocation at UPSA. From all indication, it was going to be a tough call as the President has been traveling within Ghana rendering accounts of his stewardship to his people. Also more pressing was the 40th day funeral service for his beloved mum which according to Islamic rites, was coming up a day after the convocation. But the President still made the huge sacrifice of honouring us with his presence as he had promised. And he stayed with us from beginning to the end.

I was particularly touched by his speech. He gave three reasons why he decided to attend. Firstly, He spoke about UPSA being one of Ghana's greatest universities. Secondly, he eulogised the Vice Chancellor of the institution, Professor Joshua Alabi who he asserted had demonstrated how internally generated revenues can be judiciously managed to sustain universities. He had therefore come to pay tribute to the great scholar whose tenure expires this December. Lastly, he told the congregation that he had honoured the invitation to attend particularly because of the honorary degree being awarded to me. In this regard, he had very generous words for me:
"My third reason for being here this morning is to honour a great journalist and a respected African personality in the person of Chief Dele Momodu. I do this for his outstanding contribution to both national and international discourse, his strong personality, his vision, his perseverance in and strength in the face of adversity …" the President said amongst other kind words he spoke of me. This is what true friendship means.

I had met Mr Mahama before he became the Vice Presidential candidate to Professor John Evans Atta Mills. We got introduced by Mr Victor Smith who's currently the High Commissioner of Ghana to Great Britain. I met a very charismatic and humble man and we were well attended to by Mr Mahama and his equally simple wife, Lady Lordina, when we visited their home then. And that was it.

Mr Mahama would soon become Vice President and we met on a few occasions thereafter. One of such opportunities was at an event hosted by GLO, Nigeria's widely celebrated telecom prodigy, in Accra. I noticed the security around him was scanty, practically non-existent and may have been deliberately designed to be unobtrusive. I approached his table and his face lit up as soon as he saw me. "Wow, Dele, long time no see…" It was clear that he genuinely meant this and was not merely patronising me. On another occasion, I saw him in Abuja and his demeanour and disposition towards me was still the same. I discovered a man who has not been transfigured by power. Similarly, when President Muhammadu Buhari visited Ghana last year, President Mahama was quick to inform President Buhari that I was as much a Ghanaian as I was a Nigerian.

As fate would have it, his boss, Professor Atta Mills took ill and died and presidential power landed on Mahama's laps. I watched this development from the distance and was proud that the new found power still didn't change Mahama. I became his secret admirer unknown to him. Since I do not partake in government contracts, I had no business running to him for anything. He served out the first term of his boss and went through his own election and won. My interest in watching his performance increased because I wanted to see if such a cerebral leader would debunk the belief that professionals often fail in politics.

Contrary to expectations, Mahama unleashed an elaborately ambitious master-plan for the development of Ghana and littered everywhere with a plethora of world-class projects. Despite my regular visits to Ghana, I did not realise the extent of his vision. I only noticed that the airport kept changing for the better. The roads in the city were being tarred or resurfaced. I expected him to be commended for his uncommon efforts but he was being savagely attacked. I decided that the beautiful story of his achievements must be told now because of the African penchant for only saluting the valiant deeds of their leaders or heroes long after they are gone. The Mahama project is a compelling story that must be told not just to honour and laud this bright star of Africa but to show the world the exciting leadership prospects and possibilities available in Africa. I promise you a mind-blowing experience when you see what we are talking about. Very soon…