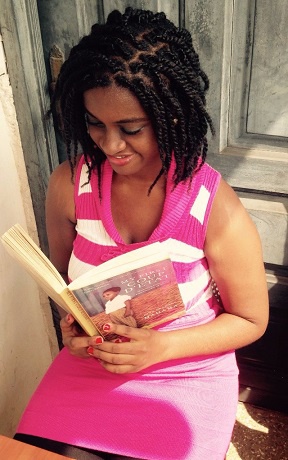 It was a normal afternoon at Wesley Girls' Senior High School when I received a parcel from the General Office.
It was during the period of the WASSCE therefore my parcel had already been scanned (which I was not too happy about but it was for the good of the school).

Well, I was not really expecting any gifts from anyone because my mother had already visited me two weeks earlier hence my 'chop-box' was running over with provisions. So I opened the parcel and to my surprise the gift was from the Office of the President!

It contained an autographed copy of his book 'My first coup d'etat' (which I started reading as soon as I laid hands on it) along with a letter. Then I remembered that I had written a letter to H.E President John Mahama some weeks back.

In the letter, I gave suggestions on various topics - education, infrastructure, tourism, interaction with citizens and even went ahead to talk about the nature of the roads to most of our tourist sites which need to be improved. Even though I wrote the letter, I doubted that I would get a reply but I wrote and posted it anyway.

So it was quite surprising and humbling to know that my voice was heard. This experience along with current occurrences has taught me a lot concerning the President (some of which I would share soon).
Though I may not agree with some of the decisions and actions he took during his term of office, I would like to focus on the positives in this article.

First of all, I would say that his letter to me taught me a lot of things:

1. My voice was important. He could have ignored whatever I wrote in my letter (after all I was just a second year General Science student who had little experience about matters involving governance at the time) but he chose to respond. This made me realize the power of communication especially through letters.

2. His reply was encouraging. In the letter, he was very appreciative of the fact that I took initiative to express my thoughts and he expressed keen interest in my progress at school. He went ahead to give me some encouraging words as well.

3. His book was informative, intriguing and entertaining. I learnt a lot about leadership and decision-making through his book. From what I watch on television, I think President John Mahama has a great sense of humor and an entertaining personality therefore I wasn't surprised that I kept flipping each page with some form of excitement wishing the stories never came to an end. I also got the chance to have a peek into his youthful years of life.
These last two points are not based on my direct interaction with him but on certain events.

4. Respect for the rule of law. The Election Petition revealed a lot about the President and our country at large. However, one of the lessons I will never forget is to respect the rule of law irrespective of one's position. Even though President John Mahama was in power at the time, he went through court proceedings and allowed the systems to work as they should hence corroborating his respect for the rule of law in this situation.

5. A patriot, lover of peace and democracy. Today, I use these words to describe the President because of his courage to accept defeat and respect the will of the people despite his wishes.

This is not to imply that he is perfect. However, I believe that Ghana is blessed to have had such a president. In the same spirit of happiness and patriotism I say congratulations to President-elect Nana Akufo-Addo. I have not had the opportunity to interact with President-elect Nana Akufo-Addo but from a distance, I admire his courage, persistence and resilience.

Lastly, I am not a member of any political party; I wrote this because I believe in acknowledging good values. I want to assume he replied to many others like me, which would really be a good thing.