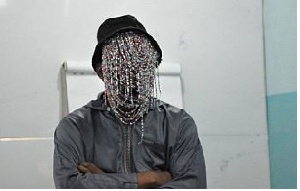 I have had the opportunity to watch the Honourable Kennedy Agyapong's investigative clip, dubbed, 'who watches the watchman' and would like to draw an independent and dispassionate inference on the issue under discussion.
It is often said that the successful trial and the subsequent crucifixion of 'Satan' would require at least two witnesses from hell. But how feasible is that?

And, who are we to challenge frog's chilling announcement on the sudden demise of crocodile? 'You and I were not there'.

In fact, some observers have been broaching somewhat speciously that criminals make excellent criminalist. But how true is that?

Apparently, the contending schools of thought have been standing on the shoulders of resplendent individuals like Eugène François Vidocq (July 24, 1775 – May 11, 1857).

Eugène François Vidocq was a French criminal and criminalist, whose life story inspired several writers, including Victor Hugo, Edgar Allan Poe, and Honore de Balzac. The former criminal became the founder and first director of the crime-detection Sûreté Nationale as well as the head of the first known private detective agency. Vidocq is considered to be the father of modern criminology and of the French police department. He is also regarded as the first private detective (See: https://en.wikipedia.org/wiki/Eugène_François_Vidocq).
We can indeed attest to numerous instances whereby once trusted detectives have secretly turned into obdurate criminals. It is an illustrative case of 'wolves in sheep's clothing'. After all, they are imperfect human beings.

Take, for example, more recently, a former British Police Officer was convicted of two raids on the same village post office at Bentley Heath, West Midlands, during which he terrified staff and customers with an imitation firearm. Profiting by £47,500 from the crimes, he was preparing to rob a bank when the car he was driving was stopped by police (See: https://www.telegraph.co.uk/.../Ex-detective-who-turned-to-crime-jailed-for-12-years.ht).

In a related incident, an internal FBI report kept under wraps for three years details dozens of cases of agents fired for egregious misconduct and crimes, including drug trafficking, attempted murder, theft, misuse of informants and consorting with prostitutes.

The report found that about one in 1,000 agents dismissed for serious misconduct or criminal offenses by the FBI during the period examined, from 1986 to 1999. The average was between eight and nine per year (See: https://www.cbsnews.com/news/years-of-fbi-agent-crimes-detailed/).

Indeed, Anas Aremeyaw Anas is an anti-corruption crusader who has immensely contributed and still contributing meaningfully to the almost insurmountable fight against the canker of corruption.
Nevertheless, the Honourable Kennedy Agyapong is alleging that he has unobjectionable evidence to suggest that the revered investigative journalist Anas Aremeyaw Anas is not the perfect creature as he would like the whole world to believe. He is a descendent of Adam, after all.

But following the Honourable Agyapong's seemingly sensational exposition, there have been avalanche of criticisms and protestations against him for alleging that Anas has some "skeletons in his cupboard".

Well, in as much as the Anas's diehard admirers may have valid reasons to defend him against any perceived unfair criticisms and attacks, we cannot and must not swiftly ward-off any allegations without proper investigations.

The all-important question however is: 'who watches the watchman?'

As I have delineated on the previous paragraphs, any agencies or individuals that have the privilege to investigate or uncover misdeeds can also commit same heinous crimes in the process. After all, to err is human.
In that regard, isn't it fair for anybody who has any concerns to call for a probe into the dealings of such persons?

Indeed, "he who comes with equity must come with clean hands."

Candidly, the 'who watches the watchman' clip is revealing, and therefore the issues cannot be swept under the carpet perfunctorily. Indeed, there are unanswered questions that need urgent answers.

Somehow, Anas's case is similitude to that of John Joseph Connolly Jr. John Joseph Connolly Jr was born on 1st August 1940. He is a former FBI agent who was convicted of racketeering, obstruction of justice and murder charges stemming from his relationship with James "Whitey" Bulger, Steve Flemmi, and the Winter Hill Gang. State and federal officers had been trying to imprison Whitey Bulger for years, but Bulger evaded capture until 2011.

As the FBI handler for Bulger and Flemmi, Connolly (who had grown up in the Old Harbour Housing Project with Bulger) had been protecting them from prosecution by supplying Bulger with information about possible attempts to catch them. Connolly was indicted on 22nd December 1999, on charges of alerting Bulger and Flemmi to investigations, falsifying FBI reports to cover their crimes, and accepting bribes (See: https://en.wikipedia.org/wiki/John_Connolly_(FBI).
I must, therefore, confess that I do not have any problem with the Honourable Agyapong's somewhat plangent, albeit sound calls to investigate Anas alleged misdeeds.