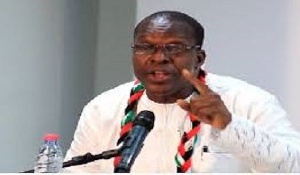 In the past few days I have had a few friends try to "trap" me to comment on the utterances of one leading member of the National Democratic Congress, Hon. Alban S. K. Bagbin, a fine gentleman par excellence I continue to admire for his immeasurable contributions to the Democratic credentials of our dear 1957, since 1993
My views

1. I disagree largely with most if not almost all the positions of the learned lawmaker, who I continue to adore for some life and leadership lessons I took from him as far back as when I was a student leader over a decade ago.

2. Hon. Bagbin, just like every other citizen equally owes it to himself the right to "spew" whatever vituperation he wish, even as I may disagree with him and he is entitled to it. He may be right, he may equally be wrong and the question of medium, etc, also remain another subject matter

3. I qualify to be his son, and his son I qualify to be, I therefore will say, our parents are never always right because they are also human, fallible and bound to also stumble and fall. We all have faults especially from whichever offices we either hold or once held, if everything was right or is right, then something is equally wrong.

4. I have also learnt both from school and at home as well as from my peers that there are always alternative ways in resolving issues, and Hon Bagbin's may not be the best but he chose that.
5. The unfortunate situation is that, the constant bashing of individuals from within our party who served in the past government is not in anyway a campaign message but an attack on individuals.

6. Let it be put on record that our constitution has never been cited to have given any basic academic qualification for appointment to a political position except the Attorney General which requires one to be a lawyer. For the rest, from Palm wine tapper to brick layer thru to street sweeper qualifies to be a Minister; just take a cursory look at the current system we have in place which is trying to call itself a government. Good day Otiko Afisa Djaba

7. I am a YOUTH, and will at all times endorse, support and push for an appointment of the youth to blend with the old in order to ensure a perfect succession plan.

8. I am certain that from whence news of appointments are made to their vetting, a solid window of expression of objection always exist for key members of the party to put forward their case, was that not the case?

9. Undoubtedly I can say without mincing words that the likes of @samgeorgegh @S_OkudzetoAblak @casforson @fifikwetey @FelixKwakyeOfo1 @JohnJinapor, Ibrahim Murtala Mohammed, Cassiel Ato Forson, etc, are all Youth who were given the golden opportunity to serve, they were not the first and will certainly not be the last because many intelligent young chaps continue to spring up. I am tempted to ask if it will be wrong to hand my friend, comrade and brother, Sammy Gyamfi and the other numerous young men and women in the NDC an appointment if we restore Power in 2020 for their varying stellar showmanship while we are in opposition.


10. As humans we can never be perfect, in the shortfalls of these young men while they were at post, obvious lessons were learnt and today they are stalwarts still under tutelage (cos we continue to learn in life anyways) but can be relied on by the party and nation in various spheres as already is the case. In every serious organisation, the appointment of youth to positions is a clear indication of a deliberate policy preparation to let the young learn from the old, and also give the old confidence that they can hand over to trusted competent hands in their absence.

11. Let it be put on record that anyone who goes on campaign to denigrate other contenders instead of being precise with his/her message has run out of strategy and is destined to be confined and consigned to the doldrums of defeat because s/he shall be vanquished on that shallow platter.

12. As a party in opposition, we are a government in waiting, the common opponent is the governing @NPP_GH and not ourselves. Let us remain focused on their failure which is a substantive issue now because our ills in the past already caused us an election and power, the NPP has failed Ghanaians.

13. It is worthy of mention that in the supposed incompetence of the @JDMahama led @OfficialNDCGh era we were much better than this alleged competently corrupt administration which never seizes to dazzle Ghanaians with one scandal or the other with the president @NAkufoAddo himself gleefully participating in the process to dissipate the public purse.


14. The NDC MUST save Ghanaians from this hardships, hardships of escalating fuel prices, high costs of living standards, the incomprehensible dollar-cedi relation, the 1st and 2nd year Free SHS as opposed to the campaign mantra of free shs for all, double-track system, etc. Let's rise against this and stop being at each other's throat at this time

15. We are now in opposition, a position we earned based on many factors, but a location we ought not to have been. The NDC has absolutely no right to be in opposition now but we are, I call it the results of the inbuilt mechanisms of self destruction.

We are still learning...