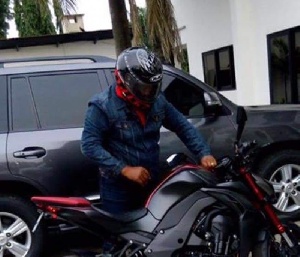 Yesterday, the news in town was that President John Dramani Mahama took a ride on a motorbike to go inspect areas that got affected by floods recently.
The conduct of the President generated a potpourri of views. Whilst some thought the President was a down to earth man riding on a motor bike others thought the behaviour of President Dramani was yet another failed PR stunt.

As a Ghanaian, I also have an opinion.

The conduct of the President was not only populist but also pathetic. That the President was seen riding a motor bike as circulated in the media in my view was a well rehearsed drama coming a day after the burial of one of the "Campaign Managers" of the President- Bob Okalla. Left to me alone the comedy of the President was his version of celebrating his good friend -iconic comedian Okalla.

The most profoundly irritating drama emerged when communicators of the ruling NDC started alleging that the riding of a motor bike by President Mahama was a sign of humility! Balderdash!

Why didn't President Mahama go to Apsonic Motors to buy a motor bike for that drama?
Motorbikes enthusiasts have disclosed that the type of motorbike that the President rode was a Ducati 5000cc whose cost can buy several ambulances to hospitals in deprived communities of Ghana.

What the President did was nothing but insensitive display of opulence at a time water from choked drains was carrying Ghanaians, motorists and buildings away.

The other question is that- why is it that nobody saw the President riding the motorbike and took pictures but rather Ghanaians were fed with a video and pictures taken by professional photographer at a location which was not the FlagStaff House nor the official residence of the President. It is alleged that the motor bike riding drama was auditioned in the house of one of the brothers of the President.

The President must be told to be serious. You don't embark on such a prank at a time unemployment was soaring with the country in a sorry state. There was nothing humbling about President Mahama allegedly riding a Ducati to inspect flood hit areas.

The behaviour of the President was not only a new low in the art of propaganda but populist.
Next time choose Apsonic motorbike if you want to prove you are humble and down to earth Mr President. Cheers.

Akilu Sayibu

Tamale North