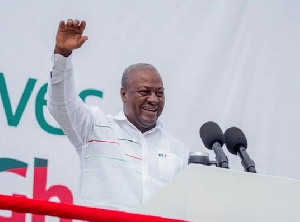 He may not admit it, but most likely, bitterly implanted in his hippocampus (part of the brain responsible for memory) is probably Mr. John Dramani Mahama's detestable realization that he was the first Ghana president to have been booted out of office in his calculated attempt to seek a second or third term (?) in 2016.
He suffered massively in electoral beating that was not only a shocker in the country's political history, but also the margin of victory for his main challenger Nana Akufo-Addo of the NPP was unprecedentedly the largest ever recorded against a sitting president.

Premised on many of his unguarded pronouncements and un-statesmanlike demeanours thus far, no one needs to be told ex-President Mahama has not yet finished licking his electoral wounds smart Ghanaian voters inflicted cruelly on him and his corrupt team.

Mr. Mahama's deep-seated bitterness resulting from his unexpected defeat at the hands of Nana Addo has been tormenting him since then. Whenever the former president opens his mouth to comment on any national issue or criticize the current government, one cannot help but notice the sheer pretence and creeping cynicism underneath the so-called policy alternatives he seems to be articulating incoherently now and then. Put differently, Mr. Mahama pretends as if the Ghana presidency is a thankless job yet he is so bloodthirsty for the same job.

Surely, the ex-president and his vassals dislike any idea of comparing or mentioning the steady efforts of Nana Addo administration vis-à-vis Mr. Mahama's past crafty activities, including how the previous government badly managed Ghana.

On top of the foregoing past activities of the NDC under Mahama are the adverse trickle-down effects on the nation's economy Ghanaians are witnessing under the present administration.

Fact is no serious person today can genuinely put Ghana's struggling economy under microscopic lens without considering the negative effects of the "factor-six equation" of Mr. John Mahama. I mean how long did it take him and his NDC cheerleaders to screw up the nation? You do the math.
But in twist of irony, this same leader who presided over a cabal of most incompetent and venal regime Ghana has had in recent memory is now moving around the country and misleadingly capitalizing on the economic resentments among the Ghanaians struggling daily to make a living.

What Comrade Mahama doesn't want any of us to know at this point is, he immensely helped to contribute to the economic problems facing the country at the moment back when he was in office.



Every day it is becoming clear somewhere in his brain ex-President Mahama appears to harbour some sentiments that millions of Ghanaians are political suckers, so he can invoke God's name to manipulate people to suit his burning desire of coming back to misrule Ghana into economic ditch and promotes cronyism once more.

When he embarks on some of his deceiving errands or campaigns, the former president has a sly way of putting up an armour of contrition, selflessness, and often some elements of mea culpa.

Mostly, beneath that seeming façade of humbleness grounded in the "New Mahama" is also the Shakespearean undertones of a "gilded tomb that do worms unfold." Mr. Mahama comes across as a shiny, white-wash tomb but when cracks opened, it is full of bones or skeletons.
Now that Nana Addo has daringly implemented the Free SHS with all its challenges, Mr. Mahama claims he has the right solutions to the problems facing the school system, forgetting that he had been in power for many years where he could have seriously done something practical about it.

The mind-boggling questions to ask is what else the former president can offer Ghanaians again that he couldn't have done six to eight years in power?

If the ex-president and his troupes could not improve the economic prospects of Ghana for all these long years in charge, why can't he afford Nana Akufo-Addo more time to transform the economy his NDC government left in shambles?

Mr. Mahama's desperation and insatiable quest to be president of Ghana at all cost for four more years smack of his insane sense of entitlement to everything Ghana. Plus, there is this ego-driven belief that perhaps he is the only former president left to solve the nation's perennial problems he helped create.



Not surprising but sad to say, a lot of people out of economic frustrations are buying into the former president's latter-day divine sermons that come 2020 if he becomes president again, he will turn Ghana into the land of milk and honey.
In Mahama's envisioned Ghana paradise, the greedy illegal miners will be given unrestricted access to the already plundered Ghanaian lands for galamsey because the people don't have jobs.

With these pranks, it is unbelievable to see many Ghanaian media practitioners or those who like to call themselves "ace" journalists/commentators, for some strange reasons can't forcefully question or critically challenge many of the flawed assumptions of ex-President Mahama and his minions in the NDC communication team.

The scariest of all his heavenly theatrics and honey-filled utterances is Mr. Mahama's claim that somehow God allowed his humiliating lost in the 2016 general elections so all the level-headed Ghanaian voters can draw a sensible comparison of his past "efficient and corrupt-free government" against the present administration of Nana Addo Danquah.

Apparently, it is obvious the former president naively believes he lost his re-election bid not because of his third-rate management skills.

Rather, he attributes his electoral downfalls to some divine intervention to enable Ghanaians have nostalgic cravings or favourable memories of the "good old days" of Mahama-led regime.

Maybe only in Ghana the then incumbent president beaten savagely by his challenger in the polls can turn around and come up now with such a tall tale that God intercession might have been responsible for his defeat.
Well, Mr. Mahama can walk around the country as much as he wants with all his divine fables designed to fool his followers for power, but one sure fact all the savvy Ghanaians know, including one of his own former state Minister Mr. Spio Garbrah, is that God did not cause the ex-president's miserable trouncing in the 2016 general elections.

As Mr. Garbrah correctly suggested, let's "Take God's name out" of your power-drunken ambitions and vanities.