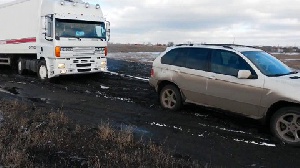 Let me help clarify some of the controversies and misinformation
1. The govt hasn't the money to buy the district assemblies the towing cars and equipment to help get rid of the spoilt cars on our roads, and the district assemblies also don't have enough internally generated funds(IGF) to buy those towing equipment for that service, and through that generate income for themselves.

2. The Police and DVLA do not have enough towing equipment to do the service, and the government hasn't the funds to help equip them with the appropriate and required a number of the towing equipment to do the job properly.

Note the Police service and DVLA are involved in this policy, a reason why about 5% of the amount generated will be going to them.

3. The people behind these contract are the Government[Police, Transport Ministry, Parliament, Finance Ministry NRSC, DVLA, Health Ministry(national ambulance service and NHIS), others] and the private sector[Road Safety Management Company Limited believed to be affiliated to jospong/Zoomlion and all other private towing companies in Ghana].

Note, it is a Public Private Partnership(PPP) initiative.
And the government has chosen this kind of development oriented and problem-solving strategy because it has not enough money to fund it, so a need for government to involve the private sector which has the appropriate funds to buy all the necessary equipment and its management to help solve this road canker together with the government.

4. A spoilt car in a road at fabr)de3 b3 to me choke or an outskirt of a city can be captured through anyone or a concerned citizen in the known of it to place a call to the appropriate quarters for it to be attended to quickly because the towing joints/stations will be scattered across Ghana like zoomlion community sweepers.

4. NPP government had to pick the policy up for implementation because it had been approved by Parliament plus it is a good policy with the tendency to reduce death through accidents like that of Kotoko and others, plus push up the growth of our economy through reduction of traffic on our road.

Note, this policy also covers clearing all other obstacles in our roads such as trees, stones, weeds and others.

5. Lastly, making it a shared responsibility like an insurance such as the NHIS will be cheaper than making it an individual responsibility like the cash and carry system in the health sector.
Note, making it an individual responsibility as people like to call it "Pay As You Go" is very costly, and has mostly brought about huge economy burden on such who get their car spoilt in the road, most of such victims as a result mostly do not attend to their spoilt cars quickly due to their lack of funds, and has as a result brought about numerous accidents and other economic obstacles to the country.

But a shared responsibility like what has been proposed by parliament will get everyone paying small at a time so that these spoilt cars and other obstacles in our roads can be attended to quickly to help reduce some of these economic obstacles of our country.

Note, aside the amount generated going to get our roads really safe and motor-able, some of this amount will also be used to fund and equip NHIS and the National Ambulance.

Possible adjustments in the policy through dialogue which will get all the stakeholders really satisfied before its implementation won't be bad though, but a total throwing of it out won't be the best for both citizens and country