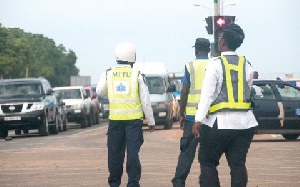 The Motor Transport and Traffic Department (MTTD) of the Ashanti Regional Police Command has seized 46 commercial cars for breaching road traffic regulations.
The Kia Pregio cars were impounded for illegally fixing additional seats and failing to provide proper seating accommodation for passengers.

According to the MTTD, Kia Pregio cars are supposed to have 12 passenger seats but the drivers had added additional seats to increase the number to 15.

The cars were impounded on Friday, 19 October 2018 during an operation by the police.

They have been parked at the regional police headquarters at Adum, Kumasi
Drivers of the impounded cars stormed the police headquarters to demand the release of the vehicles but to no avail.

To them, they have not committed any offence since they argued that the seats were already fixed in the cars when the Driver and Vehicle Licensing Authority (DVLA) inspected and registered the vehicles for commercial purposes.

The drivers told Adehye FM's Elisha Adarkwah in an interview that they want the government to intervene in the matter to stop what they described as harassment by the police.