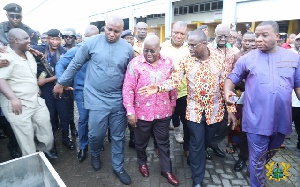 Although President Nana Addo Dankwa Akufo-Addo did not err in commending the Chief Executive Officer of Jospong Group of Companies, Joseph Siaw Agyepong, regarding the installation of the waste treatment plant of the company, he could have held on with his praises due to alleged corrupt acts the company has been engaged in over the past years, Kwaku Segbefia, a member of pressure group, OccupyGhana, has said.
President Akufo-Addo, while inspecting a plant that converts waste to fertiliser at Adjen Kotoku in the Greater Accra Region which is being managed by Jospong, said: "It's an eye opener for me. It is about what is possible, about what collaboration can do, and what is possible, with encouragement and proper policy framework, if we have confidence in Ghanaian entrepreneurs.

"Ghanaian entrepreneurs have to be at the forefront of the social and economic transformation of the country. This sort of facility, seeing it work in detail, is extremely encouraging."

Particularly, the President was excited "about the idea that out of here too, it is making an important contribution to our balance of payments, by being able to export products out of here to neighbouring countries and afar. If you put all of these things together, we are seeing the best kind of collaboration between the state and the private sector."

He further stated "more grease to your elbow, and the contribution you are making to our social life is inestimable. We have to encourage you. When you are at the forefront of doing things, like you are, you will be the subject of controversy, it goes with the territory. I know you a little bit, and I know you are capable of handling it. Stay focused."

But the president's comments have not gone down well with a section of the Ghanaian public who believe the company has been engaged in several acts of corruption.
Speaking on this development on Accra100.5FM's mid-day news on Monday, 13 November, Mr Segbefia said: "That particular waste plant the president inspected is a contract that is in good standing, there are no question marks on it, and, so, the president's comment regarding that contract or project is apt.

"We cannot say that the president erred in his comments.

"But, at least, we expected the president to have held on with his comments or praises due to the plethora of allegations of corruption levelled against that particular company."

"As we speak, no court has pronounced the company guilty of any corrupt act but we all have heard issues of allegations of corruption that have bedeviled that company, and, so, for us, we thought the president could have restrained himself with the commendations, at least, for now."