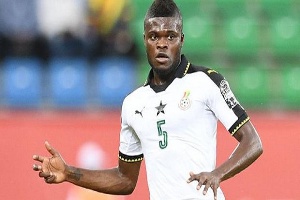 After his important equalizer against Congo in Kumasi in the 1-1 draw and a hat trick against the Congolese in the reverse game in Kintele as Ghana won 5-1 in September last year and finishing 2017 as Black Stars highest goal scorer with 5 goals, Thomas Partey went on to take leadership responsibility by skippering the Black Stars in the international friendlies against Japan and Iceland.
It will therefore not make any sense for Kwesi Appiah to take the captaincy from the Atletico Madrid player who was right there when we needed him.

"We have not decided on who will captain the team. That decision will be taken this evening after training" assistant coach Ibrahim Tanko has reportedly told Fox FM from Ghana's base in Nairobi.

It shouldn't be forgotten that in the dispirited 1-1 Congo draw in Kumasi during the 2018 FIFA World Cup qualification tournament the majority of the Stars were bad. Terrible defending by Attamah Laweh resulted in the Congo opener by the striker Thievy Bifouma. Asamoah Gyan and co were simply ineffective. One player that stood shoulders above the rest was Thomas Partey. He played with great desire and even got the equalizer. The Stars could've well lost that game but for Partey's equalizer. This is however not to put credit of a team on one man.
The Europa League winner has proven to be a reliable man and when Asamoahy Gyan and Andre Ayew were not available it was Partey that led the team to go unbeaten against two World Cup teams – Japan and Iceland, even if they were friendlies.

Kwesi Appiah was a player and he knows that one way not to cause anymore troubles is to let Partey continue in his role as interim captain on Saturday against the Kenyans. It is promote continuity and maintain the peace and tranquility that have returned to the national selection.

It is true Appiah is the boss and he calls the shot but it will not be sensible to remove the captain's band from the arm of the player that has worn it for the Stars to go unbeaten in two games and is producing top performances any time he wears the national colors.