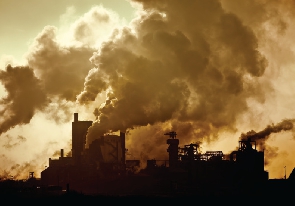 My empirical observations of the level of air pollution in the city of Kumasi raise a number of questions and conclusions in my mind.
One could physically see the pollutants and smell the pollution.

I could see some vehicles on the roads discharging high volumes of "blackened" fumes from their exhaust pipes.

The fumes discharged by any such faulty car or vehicle at the point of the driver changing a gear, then accelerating, is capable of blocking one's visibility for seconds.

However, these fumes are pollutants hazardous to human life when breathed in. The fumes can easily trigger asthmatic seizures in asthmatic sufferers.

It also makes it difficult to breathe as one could smell petrol when on the roads, all because of the discharge of the hazardous fumes.
Are the MMTD police officers on the roads only there to direct traffic, take bribes and or harass drivers?

Don't they have the right to pull aside those vehicles discharging such hazardous fumes? If they don't, who is responsible for ensuring that vehicles do not discharge such levels of visible fumes to put human lives at risk?

Even in London where vehicles could not be seen, or allowed to discharge blackened fumes, they have demarcated an area called "Ultra low emissions zone" (ULEZ) on intent to face out diesel cars and petrol cars over a certain age limit.

They believe diesel cars discharge more pollutants to endanger life, although one could not physically see any fumes, unlike in Ghana.

Why are Ghanaians or Africans always behaving and thinking differently, but stupidly? I can't get my head around this obvious deplorable attitude by the Ghanaian.
Don't we have rules in Ghana about the safety of cars and how they should operate?

Don't we have regulations in Ghana about the need for periodic checking and maintenance of vehicles before roadworthy permits or certificates are issued to them?

If there are such regulations, then l would like to know if they are enforced and also, if such discharge of amounts of hazardous fumes as spoken about here are permissible?

The Ghanaian or the African will wait like a zombie until advised or directed by the white man beore they act. Why that?

Can't we for once reason as human beings to act sensibly without first being told or asked to do so by someone else?
Who is in charge of ensuring that the city of Kumasi is safe and cleaner for human habitation?

Is it Asantehene Otumfuo Osei Tutu II, or the Metropolitan Chief Executive or the Regional Minister Simon Osei Mensah?

I hope whoever is responsible for ensuring that the air in Kumasi is cleaner and safer for the citizens will not hesitate to act as soon as my observations become a public knowledge by this publication.

Failing to act may give me the option to descend hard on those thought to be in charge but failing to perform their functions.

To conclude, it must be stressed that the visibly discharged quantities of black or white fumes by vehicles (cars) as l observed on the roads of Kumasi are dangerous for the health and safety of the inhabitants and visitors.
The police must be empowered to stop such vehicles from plying the roads until they are serviced.