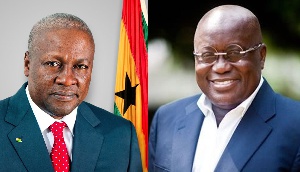 By Margaret Jackson
The NPP's Serial Presidential Sore Loser (SPSR), Nana Addo Dankwa Akufo-Addo, is noted for sending congratulatory messages even to dogs when they give birth. Akufo-Addo is known for sending congratulatory messages to anybody just to look important and catch the attention of the media.

Even though Akufo-Addo is just an opposition candidate in Ghana, he is always the first to send messages of goodwill whenever any candidate wins an election in any country. He has falsely elected himself as a President-in-Waiting, and sending messages to world leaders who do not even know whom he is, let alone what he's talking about, with the view to catching their attention and looking good.

Sitting Presidents normally send goodwill messages when other leaders win elections. But with Akufo-Addo, it has become his pastime, as he's normally the first person to send congratulatory messages even before incumbents or opposition candidates concede defeat. In Ghana, he sends messages to everybody. I am waiting for Akufo-Addo's congratulatory message when my pregnant dog gives birth.

Yet one thing Akufo-Addo has never done in his life is to concede defeat and send congratulatory messages anytime he goes down. Akufo-Addo lost the 2018 presidential election to President Mills but never conceded defeat or congratulated President Mills. He did the same thing in 2012 when he lost the elections to President Mahama.

Even after Akufo-Addo took President Mahama to court and lost the verdict, he never conceded defeat or called President Mahama to congratulate him.

Now listen to what happened. The NPP held its last rally towards the 2016 Elections on Sunday December 4, at the Trade Fair site in Accra. At the rally, Akufo-Addo was bold enough, to shamelessly state, that on Thursday December 8, he would be declared President-Elect by the Chairperson of the Electoral Commission, Mrs Charlotte Osei, and that President Mahama will call to congratulate him.
Unabashed Akufo-Addo had the effrontery to state that President Mahama will call to congratulate him. I know President Mahama does not have a problem with that and that Ghanaians took note of what Akufo-Addo said.

Now my question is if Akufo-Addo goes down, as it is very certain, will he for once bury his stupid pride and concede defeat and also call President Mahama and congratulate him. This is something Akufo-Addo will never do. He is someone who has grown up to believe that he is far above everybody in Ghana and that is why he has used this foolish ego to destroy the NPP.

I am waiting to see Akufo-Addo's reaction if the Electoral Commission announces the results and it does not go his way. Will such a man who claims to be a democrat call President Mahama and wish him well? I don't think so.

At the NPP's Trade Fair rally, Akufo-Addo kept referring to the Flag Staff House as Jubilee House even though the name had been changed by President Mills more than six years ago. Why will such an arrogant creature continue to spit Ghanaians in the face and expect to be hired for the highest position of Ghana. Arrogance has become the trademark of Akufo-Addo, and this will send him to his grave.

At the rally, Akufo-Addo further told Ghanaians what he would do if voted as president. What was missing was what Akufo-Addo had done in the past. Ghanaians wanted to know what Akufo-Addo did when he as a Parliamentarian for 12 years. Ghanaians expect ACCOMPLISHMENTS…. ACCOMPLISHMENTS and nothing but ACCOMPLISHMENTS.

What remarkable thing has Akufo-Addo done to warrant being hired as President. He could not do anything for the Abuakwa people, when he was in parliament for 12 long years. It was President Mahama who gave water to the people of Akufo-Addo. Sleeping Akufo-Addo was in Parliament for 12 years speaking slangs but did nothing. This is the man who called President Mills, Professor Do Nothing". I have news for Akufo-Addo today. I will say you are, "Politician Do Nothing".
He was an Attorney General during Kufuor's regime, but Akufo-Addo's record stinks to the highest heaven. He awarded huge dubious judgement debts at the expense of Ghana. The docket of some NPP women executives who were busted for transporting drugs went missing under Akufo-Addo's watch. Akufo-Addo released the assets that have been seized by the state from some drug barons like Benjilo. Today he claims he is clean and has not stolen from Ghana. Such a charlatan and nation wrecker!

Akufo-Addo's record as a foreign minister is even worse. He issued diplomatic passports for drug pushers and barons some of whom are his relatives. Notorious Ghanaian drug baron, Raymond Kwame Amankwah, who is serving a 14-year prison term at the Provisional Detention Centre at Caucaia in Brazil for drug trafficking, was holding a diplomatic passport issued to him when Akufo-Addo was the foreign minister during President Kufuor regime. Why has Akufo-Addo never addressed this issue about the diplomatic passports? At the Trade Fair rally, Akufo-Addo claimed he has never killed anybody. I wish he had also stated that he had never issued any diplomatic passport to anybody.

Akufo-Addo has no record to run on! He should come again! Let him tell Ghanaians what he had accomplished in the past for us to hire him as president. Akufo-Addo saying I will do this or that if voted as president, turn Ghana into a first class country, when he has virtually become a dictator in the NPP would not wash. Ghana needs better! And the country's better does not rest in the hands of dangerous Akufo-Addo. The truth is that Akufo-Addo will NEVER EVER BE PRESIDENT OF GHANA. MARK MY WORDS!

Please stay with the above information until you hear from me again!

Writer's e-mail: magjackson80@yahoo.com