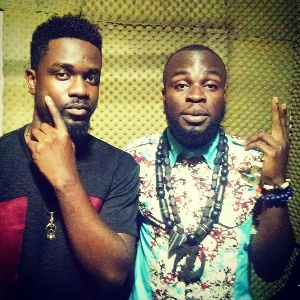 As well, both of their music videos are also unquestionably dope!
As a matter of fact, the concepts for their classic music videos have a strong presence of the sociology of knowledge. And many are those who may not have noticed it that those two, Sarkodie and M.anifest, have contributed enormously to music therapy in both subtle and overt ways.

Sarkodie's "You Go Kill Me" (featuring E.L) and M.anifest's "W'ani Aba" (featuring Bisa Kdei), to mention just two, are two powerful songs that have always played the sacred role of music therapy in this author's life. Here are some of the most memorable lines from "W'ani Aba":

"I dey walk through the valley of the shadow of death…

"I no dey fear who still got to pepper my step…

"The game be foul…Ano even build a house but I built a reap…

"Dangote's cement let's get concrete…

"Walk on the street; word on the street, stand on your own two feet…

"More cautious than anxious…

"Okomfo Anokye I conjure the stool for y'all…

"So you can stand on a pedestal…and motia (dwarf) will be ten feet tall…

"I don't need Peter to pay Paul…

"I don't snooze or snore or booze or borrow…

"You might see me smiling when the day is not good…

"For me this is pure joy for some is a choice…

"Life is a game for a fool…A dream for the wise…Comedy for the rich…Tragedy for the poor…

"Somebody dey see me flying…I no bi God look for your own…

"W'ani aba wo ho mi aa na w'ani aba…

Wow!
M.anifest, they say makes erudite music…Sarkodie, they say, makes ghetto music…Sarkodie and M.anifest…President Mahama and Akufo-Addo…Kennedy Agyapong and Afia Schwarzenegger…The National Democratic Congress (NDC) and the New Patriotic Party (NPP)….Notorious BIG and Tupac Shakur…the West Coast and the East Coast…The rap war!

Erudite music or ghetto music, they both represent the best Ghana and Africa has to offer the rest of the world…

But where are the Ghana's true and real rap doctors, Obrafuor and Okomfo Kwadee?

Did poet Nenedi not refer to Obrafuor as prophet, Okomfo Kwadee as god? Could this be a conversational melody between two of Ghana's most creative lyricists? Does it matter if one is "god," the other "king"?

And where are Reggie Rockstone, the self-styled Grandpapa of Hiplife, and the others saying? Is this lyrical battle of the titans necessary?

Where does Ghana stand in all these lyrical battling, dissing and beefing among our favorite artistes? That is, can Ghana truly come out of these public battles unscathed from these battles?

They should look up to Bob Marley, Fela Kuti, Miriam Makeba, Lucky Dube, Koo Nimo, Hugh Masekela, Peter Tosh, Nina Simone, Le Chevalier de Saint-Georges, Aretha Franklin…

B.B. King, Youssou N'Duor, Quincy Jones, Duke Ellington, Angelique Kidjo, Miles Davis, Nana Ampadu, Wulomo, Manu Dibango, Salif Keita, James Brown, Prince, Stevie Wonder…

Thus, M.anifest and Sarkodie should think of leaving an emulative legacy that will resonate with the world and outlive their creative or artistic temporariness…that is, long after they are gone.

It is rather sad that human beings do not appear to make good music anymore which, for the most part, lacks the emotional, intellectual and philosophical, and aesthetic power of timelessness. This is the problem with most mainstream or pop ("popular") music particularly.

There is no doubt in our minds that unbridled impetus for commercial success ("increased sales volume"), our vulgar cultures, laziness, mechanization of music, uncooperative competition, globalization, and rapidly changing taste and trend in the intellectual consumption of musical material may have something to do with the dying temperature and embers of musical creativity.

And today's music also tends to lack soul, creativity and true talent. The multi-instrumentalist and arguable one of the world's most prolific songwriters, Prince, lamented this fact many a time prior to his passing. Jazz, roots reggae, and classical music may seem to be the exception rather than the rule.

What is even more interesting is that Bob Marley and John Lennon, to name just two, in death tend to have a more powerful, penetrating musical voice than all those of our living Fourth Republic musicians combined.

The brands of these two talented musicians are unbeatable even to this very day!

Of course man will die, but good music lives on forever.

"god MC" is dope…"Kanta" is dope…"Bossy" is dope…

Oh "god MC" is rather doper…lyrically and rhythmically and aesthetically hot!

Yet both are also lyrically mature griots who spit fire of tight lyrics in their repertoires, in spite of the fact that they have not demonstrated any teachable instances of terpsichorean dexterity and sophistication in their music videos apart from the usual emulation of kinesthetic moves and hand gestures of the typical male rapper from the hip-hop community of the United States (US).
Azonto contradicts this staple!

And oh, just pay close attention to the Fela Kuti-inspired Afrobeat-like sinusoidal whining of a trumpet…or a trumpet's Siamese sibling, the saxophone…and the laidback lyricism, exquisite spoken word…on the track "god MC." Where are Eryka Badu, Rakim, Digable Planets, and KRS-1? Here let us remind ourselves what one paper described M.anifest, an artiste with:

"An incredible gift' (the run off groove) who possesses 'the kind of assured, joyful, ruminative voice that made Mos Def into Hollywood's favorite conscious…rap star' (City Pages)...

"The influence and exposure to the music scene in Twin Cities led to the production of his first album, aptly titled 'Manifestations'…an album which garnered great international attention and 'Song Writing Of The Year' Honors…

"The evolvement and cultural expansion of M.anifest continued to popularize by leaps and bounds and by 2010, he was acknowledged by MTV as an artist to look out for. After touring Europe in 2011 with Flea from the Red Hot Chili Peppers amongst others, he gave birth to a second album, 'Immigrant Chronicles: Coming to America' which attracted international acclaim followed by several awards and nominations that continue to follow him to date…

"Music, politics, social awareness and philanthropy are all elements from the dynamic composition of his DNA. His stories and thoughts are of great intrigue, and his depth will take you on a journey of thought provoking 'Manifestations'…"

Of course for this article we thoroughly had had to read an interview transcript of M.anifest, a piece put together by one Lilian N. Blankson titled "An In-depth Conversation With Award-Winning Rapper, M.ANIFEST," whence we culled the above attributions.

It is painfully clear to us now why so many observers believe M.anifest is philosophically deep, intelligent, knowledgeable, sophisticated, articulate, mature…

In fact, we also came to this conclusion after listening to a large repertoire of his songs and watching several of his music videos…and impressive is an understatement. Ghana and Africa are indeed blessed with enormous talents!

In the final analysis, then, we expect this penetrating sociology of knowledge which Bob Marley aptly referred to on the track, "Trenchtown Rock," from both M.anifest and Sarkodie, as in the following memorable lines:

"One good thing about music, when it hits you feel no pain…so hit me with music!"

Sarkodie…M.anifest…listen up…Gemini Orleans has a track for you two…it is called "Cease Fire."

Again let the great lyrical quantum geniuses, Sarkodie and M.anifest, give us something worthy of Bob Marley's "Jump Nyabinghi" (Note: The word "Nyabinghi" is a revered cultural and historical figure in Rwanda and Uganda.

Readers should also read about how Nyabinghi allegedly took possession of the corporeal universe of the anti-colonial heroine, Muhumusu! "Nyabinghi" also refers to the so-called "Just War Theory" in the parlance of Rastafarianism).

Hear Bob Marley:

"Love to see when ya move in the rhythm…

"I love to see, when you're dancin' from within!...

"It gives great joy to feel such sweet togetherness…
"Everyone doin' and they're doing their best… "Sing your song yah!:

"Jump, jump, jump…Nyabinghi!...

"Jump, jump, jump…Nyabinghi!...

"Jump, jump, jump…Nyabinghi! ...

"Jump, jump, jump…Nyabinghi!...

Let us all smoke the peace pipe while we perform "Jump Nyabinghi" or do justice to "Jump Nyabinghi."

Who are Sarkodie and M.anifest?

One school of cultural chauvinists thinks M.anifest is an inferior rapper because of his Ewe ethnicity.

The other school of cultural chauvinists also thinks Sarkodie is an inferior rapper because of his Asante ethnicity.

Where are all these leading us?

But, the erstwhile comparison between Jay-Z and Nas takes after the present one between M.anifest and Sarkodie in may important respects.

It is generally believed that Nas is more lyrically dexterous than the more commercially successful Jay-Z.

On the one hand, Sarkodie's characteristic or trademark lyrical braggadocio and his relatively de-emphasized focus on serious social and political topics on his more recent albums, speaks to his slowly declining relevance and influence as a one-time major force in the realm of social and political consciousness.

On the other hand, though, M.anifest's conscious rap is light-years ahead of Sarkodie's more materialistic and sybaritic rap in the larger scheme of social and political consciousness.

In our view, M.anifest's Afrocentric consciousness, the foundation of his rich conscious rap repertoire, is his greatest asset.

This is also why some think many of Sarkodie's recent collection of songs are philosophically shallow and aesthetically wack, much like potboiler in the literary world.

Where are Mobb Deep's "Shook Ones" and KRS-1's "Self-Destruction" and Bob Marley's "One Love"?

Let Sarkodie and M.anifest listen to Biggie Smalls' "Who Shot Ya" and Tupac's "Hit 'Em Up"!
Concluding remarks: Powerful messages for those cultural chauvinists passing off as music critics.

Okraku Mantey

"Because it is M.anifest, people respect him in a particular class, so if we see him speak like this, we will say no! This can't be M.anifest... If the one who is seen as the cool; especially when we all know the kind of home M.anifest comes from, he schooled in the West and his level of education and all that, the perception is that he must know better."

Ahuma Bosco Ocansey

"The emphasis should be about wordplay rather than stirring up ill-feeling among artistes. As an institution, we have provisions for setting conflicts between artistes but as long as there is nothing detrimental going on, we do not want to be seen as stifling creativity of artistes."

D-Black

"This is healthy competition. As long as one steps out of line, it's great for the culture. Both Sarkodie and M.anifest are great MCs…I feel like as a unit though, we should be closer knit as Ghanaian acts to take on the continent."

Rap Dacta (Okyeame Kwame)

"The emphasis at this point should be 'coompetition.' This is the new paradigm for music where competitors work together for a common good. Competition is dead, plain and simple. To put it plainly, it's the number one killer of the industry. Instead of creating animosity, music should be used to bring fans together so we can concentrate on developing a better performance culture."

Hammer

"This beef may have just answered our prayers…Its finally cast a keen interest by the masses on lyrics and content in songs whom prior to this only focused on choruses and hooks. Rappers, this is your time…Please drop that knowledge…The time is now guys!!"

End of two-part series!

References

Ghanaweb. "M.anifest Must Be Careful With Sarkodie Beef…Okraku Mantey." July 4, 2016. Ghanaweb. "Sarkodie Vs. Manifest: Views From Industry Players." July 7, 2016. Ghanaweb. "Hammer Breaks Silence On Sarkodie & M.anifest Beef." July 7, 2016. Lilian N. Blankson. "An In-depth Conversation With Award-Winning Rapper, M.ANIFEST." www.Design233.com. April 28, 2014.