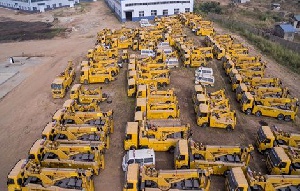 Let no one accuse me of not ever mentioning that my first passion in life is science and innovation. The breakthroughs that come with the new revolution in Artificial Intelligence, virtual reality and many more in agriculture and mass transport have leapt so fast ahead of us; I hope that this piece is read by Minister Joe Ghartey because I know that Science Minister Dr. Kwabena Frimpong chances on this column rather frequently.
I dreamt I was riding a bullet train between Accra and Tamale, nodding off very gently to the fast speeding train, not waiting to disembark even as the landscape flowed by at 300km/h.

We left Accra just on the dot at 6.30pm, my planned trip to be in Tamale for the 8am board meeting and then back in Accra in time for the lunch time strategy session before getting back to McCarthy Hill for dinner with the family by 7pm.

There was a lot riding on the timing of the trip and it was a toss up between catching the plane and using the train. I opted for the bullet speed, anticipating I would get into Tamale before 8am and have enough time for breakfast. Compared to the waiting time sitting in the airport reception, the train had now become my favourite mode of transport and fifteen minutes to Tamale was always a good bargain, not to mention the cheaper fare and the luxurious sitting arrangements.

First class is always comfortable and with a mug of cocoa in hand you just have enough time to gulp down the healthy drink before arrival. That was until some idiot of a man in a flowing 'agbada' rudely swept past my chair and spilled my cocoa all over me, waking me up to a stained pyjamas and reality.

In our today's world of bullet trains, Shanghai Maglev tops the list with its maximum operational speed of 430km/h and average speed of 251kmph. The Maglev started commercial operations in April 2004.

It runs on the 30.5km Shanghai Maglev Line, which is the first commercially, operated high-speed magnetic levitation line, extending from Longyang Road Station of Metro Line 2 and ending at Shanghai Pudong International Airport.
Shanghai Maglev is owned and operated by Shanghai Maglev Transportation Development Co. (SMTDC). The train was constructed by a joint venture of Siemens and ThyssenKrupp

A PPP arrangement? As Joe Ghartey sifts through the technology of tomorrow deciding where to source our Takoradi to Wa line and other busy routes, I want him to remember the following countries who have fast bullet trains from one end of their country to the next. Japan, China, Spain, France and Italy. Please note that neither Britain nor the USA is here, not even the wickedly rich Arab states and their never ending supply of oil wealth.

If we are to really shorten the distance between Axim and Bolga, we have to do so by looking at these countries and buying technology from them

No brain-dead ideas like building our own trains, like someone came to sell us wave technology in the last government and Armah Kofi Buah was running around all the radio and TV stations telling us how it would solve the dumsor that Kwabena Donkor refused to acknowledge as a familiar slang in the energy conundrum.

And while we are on technology, let me point out to the new Chief Justice, whose vetting was a complete waste of taxpayer money and a pitiable show of ignorance by Parliamentarians in an attempt to do what I still am not clear about. Was it a strategy that they would deny the President his prerogative of nomination and ask Justice Akuffo to go and sit someplace else while they constituted another group of persons and select a new Chief Justice? Sometimes I wonder whether Parliament has enough work to do or whether they simply run around the country looking for places to visit when contributions are a bit thin in the pipeline.

But to Sophia Akuffo who admits she is not a friend to technology and might drag us all down to her level of incompetence in this area, I say, engage a few of the new graduates from law school and let them teach you how to use Twitter and Whatsup in a modern more efficient way to teach the law and also to disseminate good cases to the public and in the process allow the lawyers to show their competence by engaging us in their particular fields of expertise. It is too late in the day to use age as an excuse to stay in the dark ages of modern communication.
We did that with the election petition and see where it took us. For months the whole of Ghana was engaged in discussing unfolding events in legal process and we made our decision about what sounded right and where common sense parted with nonsense. We grew up in those months and clearly translated what we gleaned into the elections in 2016. What more could Ghana's top lawyer want if not an enlightened citizenry?

So I've been wondering again. We have a whole coastline of water from Aflao to Axim. It just happens to be salty water. But some people have already solved the problem of removing the salty taste and making it clean potable water. So why are we complaining, especially Cape Coast, that they are short of drinking water? We have a huge man-made lake that can provide enough water from mid-Ghana to the North and we have two large rivers running from the northeast and northwest down to the coast with lots of tributaries flowing into the sea. Why are we complaining, apart from the galamsey nonsense, that we do not have enough water in Ghana?

Why do we have open skies and sunlight with photovoltaic energy throughout the year and we still do not have sufficiently abundant and cheap energy that can help us drop the cost of living in the country all year round? We don't need to discover solar technology. It has already been done. Too difficult to find the right partner to develop the energy we need to harness to make life comfortable?

We can't seem to zoom in to what makes a modern world and as we stumble on our own dearth of thinking, The Jospong Group, (PPP specialists), are taking the level of corruption to a new level, this time stamping their brand with a Towing Levy, which seemed to have passed Parliament as far back as 2012. Parliament, as usual, snoozing through and allowing a single person to capture and now legislate a law for the whole of Ghana to make him richer through means unthinkable.

But what did we expect? It was during the NDC era and anything goes when the NDC is in charge. If we let this Zoom Towing Levy embed itself in our lives, the next will be when we have to pay Jospong Group to provide us with drinking water.