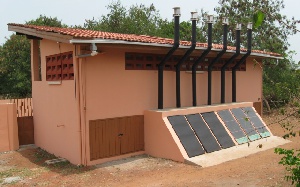 DAILY GUIDE has gathered that most residents of Atebubu in the Brong Ahafo Region have kicked against the assembly's decision to use part of the government's $1million allocation to construct toilet facilities in the municipality
During a town hall meeting last Friday, the MCE, Edward Owusu announced that the assembly will use part of its share of the fund to construct toilets, but the residents disagreed.

They complained that the municipality lacks more important basic infrastructures like motorable roads, potable water and school; among others.

However, speaking with DAILY GUIDE on phone, the MCE, Edward Owusu, said the decision to build the toilets is a central government one. "It is a directive from the ministry, and officials (coordinators) have come already to make feasibility studies on the projects. We were asked to construct public toilets and three boreholes."

The Presiding Member for the assembly, Gariba Issah, also agreed with the MCE and explained that residents are not against the projects but what happened was NDC propaganda and they are using a local radio station to achieve that.
He said the decision to construct three toilet facilities at three electoral areas including Ahenfie, New Kokonpee and another area he could not immediately recollect, was based on needs assessment conducted by the assembly. "We do not force decisions on them, the people themselves decide what they want.

"Some want water, others want feeder roads among others", he said on the phone.

He, however, could not mention budget the assembly has earmarked for the projects.