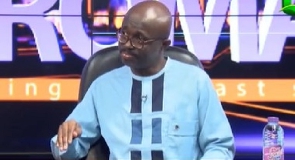 The Head of the Expanded Programme on Immunisation (EPI), Dr Kwame Amponsah-Achiano, has said that there is the need for more awareness about COVID-19 now more than ever.
This, he said, is because the pandemic is still very present in the society, contrary to the widespread notion that it is completely eradicated.

Speaking in a video clip shared by UTV Ghana on Twitter, Dr. Amponsah-Achiano said that there is the need for people to be still be cognisant of the preventive measures for the disease.

"COVID is not a disease that is gone. It has come to stay and that is something we must accept but rather protect ourselves from it. And I keep saying that it is when there is no sickness or disease that its protection is most important," he said.

There is an ongoing COVID-19 vaccination exercise for citizens of the country.

In an earlier story, GhanaWeb reported that the Ghana Health Service had announced that it will begin its 7th National COVID-19 Vaccination Exercise from Wednesday, July 19, 2023.
The exercise is expected to end on Sunday, July 23, 2023.

According to a tweet by UTV, this exercise is aimed at immunising about one million persons.

So far, 10 million people out of the more than 30 million population in the country have fully received the vaccines.

You can also watch this episode of People & Places on GhanaWeb TV:




You can also watch the first episode of Legal Agenda on GhanaWeb TV:





You can also watch the latest episode of Everyday People below




AE/WA