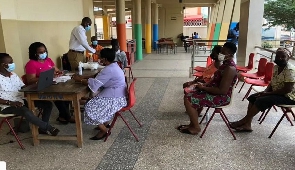 Sat, 4 Feb 2023 Source: GNA
A total of 854,206 persons in the Central Region have been fully vaccinated against COVID-19 since it was rolled out in 2021.
The figure represents 50 per cent coverage of the total target of 1,693,530 eligible individuals, 15 years and above, expected to take the vaccine.

Benjamin Adjei, the Regional Coordinator of the Expanded Programme on Immunization (EPI), Ghana Health Service, disclosed this at a stakeholder's engagement on the total outcome since the fifth roll-out of the COVID-19 vaccination exercise in the region.

The stakeholders include the Ghana Red Cross Society, Ghana Education Service, Information Service Department, and the media.

The round five roll-outs, which began last year, saw the Ghana Health Service training, assessing and supervising the districts to ensure effective and smooth implementation of the vaccination.

The region received 2,428,912 vaccines with 2, 382,740 shared and 2,022,418 administered across all the metropolitan, municipal and district assemblies.
A total of 1,120,368 of the population have received their first dose, 558,156 with two doses, and 343,894 taking the booster.

The region, Adjei said, was making headway in the prevention and protection of the citizenry from contracting the novel virus but admitted there were challenges.

The challenges include a low level of awareness within some districts and a high level of vaccine hesitancy among the citizenry.

Again, verbal assault on the health workers, who also educate the people on the importance of taking the vaccination, was rife.

The stakeholders advised the Service to conduct a survey to monitor and track the pattern of vaccinations to have a true picture of the exercise.
They said communication mechanisms must be strengthened and implemented throughout the Region and build the capacity of staff on Interpersonal Communication Skills to help deal with vaccine hesitancy.

Dr Godfred Kwabena Sarpong, Deputy Director in charge of Public Health, pledged the Service's commitment to ensuring all persons were safe and vaccinated against COVID-19.

He called on the public to accept the vaccine to protect themselves, their families and loved ones from the disease.
Source: GNA